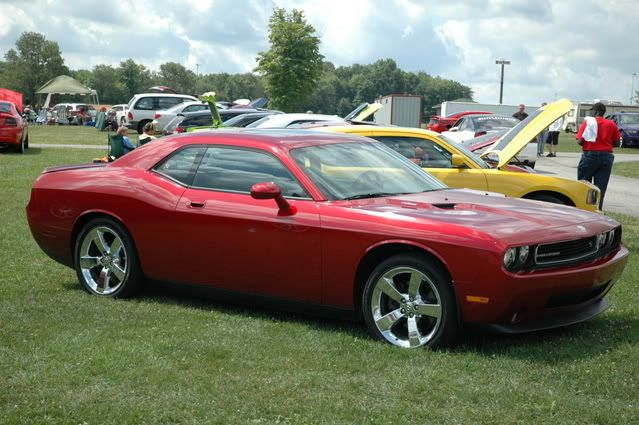 ​
WHEN
JULY 17 - JULY 18, 2010
​
WHERE
QUAKER CITY RACEWAY
1/4-mile AHRA-Sanctioned Drag Racing Facility
10359 W. South Range Road | Salem, OH 44460 | (330) 332-5335​
WHO
2005-newer Chrysler 300/300C, Dodge Challenger, Dodge Charger, Dodge Magnum
All SRT Vehicles (including): Chrysler Crossfire SRT6, Dodge Caliber SRT4, Dodge Neon SRT4,
Jeep Grand Cherokee SRT8, Dodge Viper, Dodge Ram SRT10/Rumble Bee, Plymouth Prowler
​
FEATURING
TEAM SRT
CHRYSLER GROUP LLC
MOPAR® UNDERGROUND
PARAMOUNT PERFORMANCE PRODUCTS
BILLET TECHNOLOGY
SPARKPLUGS.COM
RODTANA DESIGNS
HXC PERFORMANCE LLC
CORSA PERFORMANCE
REDFOX-RACING
FACTORY REPRODUCTIONS
CHRYSLER CLASSIC EVENTS
JINA'S EMBROIDERY
DIABLOSPORT
MEGUIAR'S CAR CARE PRODUCTS
HPP - HEIDE PERFORMANCE PRODUCTS
SUMMIT RACING EQUIPMENT
GOODYEAR TIRES
POWER PORTED PERFORMANCE
TOMMY Z DESIGN
ADVANCED AUTOMOTIVE CONCEPTS
PROCHARGER
CIRCUIT MOTORSPORTS
JAY'S GRAF-X
FORE PRECISION WORKS
MODERN MUSCLE PERFORMANCE
MANCINI RACING
MICKEY THOMPSON TIRES
RICHARD PETTY'S GARAGE
SPEEDFACTORY CARS
WHATSNEWSNX DIGITAL
KACEY CHRYSLER
CLASSIC DESIGN CONCEPTS
A.P. BIKINI TEAM
​
We will have over 13 Chrysler Excecutives this year at LX Nationals:​
Joe Grace, Executive – Street and Racing Technology (SRT), Chrysler Group LLC
and many more!!!....
​
Overall Best of SHOW & GO Competition
*Combination of Racing Performance and Show Results*​
Best of Show 300/300C | Best of Show Challenger | Best of Show Charger |
Best of Show Magnum | Best of Show Other MOPAR
(Daily Driver and Weekend Driver Class)​
Best Engine (Visual) | Best Interior | Best Custom Paint/Finish | Best Sound Presentation
Best ICE (In Car Entertainment) | Best Overall Theme | Best Underhood Performance Modification
Best Female Ride | Best Performance-Themed Ride | Best Show Car-Themed Ride
(1st, 2nd, 3rd Place Awarded)​
LX & Beyond Choice Awards
Most Creative, Well-Rounded Vehicles
(Awarded to Top 10)​
Best Club/Team/Forum Participation
(1st, 2nd, 3rd Place Awarded)​
LX & BEYOND BRACKET RACING COMPETITION
Bracket Classes: (11.49 & Quicker)(11.50 to 12.99)(13.00 & Slower)
Open Bracket Racing (All participant vehicles allowed)
​
HOST HOTEL​
880 N. Canfield-Niles Road | Youngstown, OH 44515 | (330) 544-0660
Phone-In or Online Reservations Available | Must Book No Later Than:
June 10
Contact Person: Michele Janci:
[email protected]
Group Rate: $
99.00
S/D | Group Name: LX & Beyond​
ADDITIONAL HOTEL #2​
FAIRFIELD INN & SUITES BY MARRIOTT
801 N. Canfield-Niles Road | Youngstown, OH 44515 | (330) 505-2173
Phone-In or Online Reservations Available | Must Book No Later Than: June 15
Group Rate: $99.00 S/D | $109.00 Double Suites | Group Name: LX NATIONALS​
​
​
The Legal Stuff:​
Distribution

: This event information may NOT be published on any website or other forms of media without prior written permission from Anthony-turbobuckeye.

Promotions

: If you wish to use this event, or event title, to promote your own event, business, service, club, etc., please send a detailed PM to Anthony-turbobuckeye for approval.

NO

flyers without permission.

Vendors

: To avoid conflict,

NO

vendor displays will be permitted without prior written consent from Anthony-turbobuckeye. Please PM your request.

Drawings

: If you wish to donate prizes/gift certificates for this event, PM Anthony-turbobuckeye for further info. Please

DO

NOT

post in the thread.

Rights

: Should there be a problem with the event at ANY point during the planning, implementation or execution of the event Anthony-turbobuckeye reserves the right to change ANY part of the event's policy whenever and however we want for what we deem, in our sole judgment, is for the good of the event. We reserve the right to refuse entry to anyone, and participants who engage in unacceptable behavior will be asked to leave.

Liability

: ALL participants agree to release and discharge Anthony-turbobuckeye, and/or ANY other entity connected with this event, from ANY and ALL liability for damages, loss, injury, claims or judgments resulting from their participation.