Well a few weeks ago I started the process of a 392 swap into my 2014 rt 6 speed. I found a clean short block out of a wrecked 2013 srt grand cherokee with only 12k miles and stole it for $2800.
To save money on labor I pulled the motor and transmission my self. However Ost dyno in Pittsburgh is assembling the motor for me. Id of done it myself but I just don't have the time with how busy my job is right now. Ost will also be tuning my car as well!
I accumulated all the parts needed and thankfully most of the 5.7 vvt parts swap right over to the 392. I also went with a comp 274 cam and some pac 1219 springs, as well as phaser limiter. All of my current bolt-ons will swap right over to the 392. All my current mods are in my signature. I highly recommend however buying a new oil pump and water pump just as insurance.
Also I was already running a 392 intake manifold on my 5.7 using a MSD rpm window switch , so for the time being that's how I plan on running it on the 392 as well.
My goodies
Labeled my all my harness connections
Here's the new motor
Out with my little 5.7 lol
My builder mike and his son at Ost dyno buttoned the 392 up.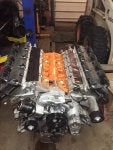 Now I'm just waiting to pick it up and drop her in. Stay tuned for updates throughout next week!