Hey everyone. Well I am proud to announce our third annual Dyno Weekend here in Southern Maryland, Yes - DYNO WEEKEND!! We plan to start the weekend off on Friday April 1st from 3PM to 8PM doing custom tunes for you guys. Friday will be for CMR Tunes only and then Saturday from 9AM to 5:30PM we will be doing CMR Tunes and PULLS. For $60 we will be offering 3 PULLs to see what you can put down. We will provide you with a nice Color Graph of your pulls as a memento of your experience. Our event will be held at our new location:
PARK DODGE CHRYSLER JEEP
22231 Three Notch Rd
Lexington Park, MD 20653-2006
We are extremely excited that Park Dodge is hosting our event and so are they!!!
Here is a MAP to Park Dodge:
PARK DODGE MAP
We are absolutely so excited about this event. Here are some pictures from our last event: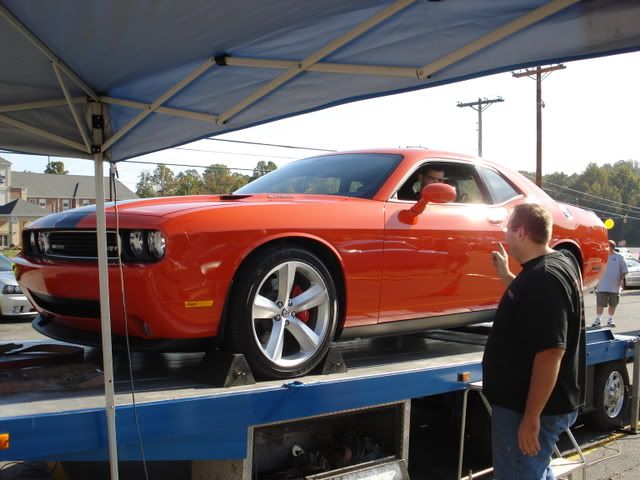 Here are a few videos to help fuel your want for a CMR Tune:
Dyno Run 1
Dyno Run 2
OK, enough with the previews, this event is going to be awesome. Our tuners are Frank Cottone and Brent Hughes coming up from Chesapeake, VA to join us for the weekend. Their performance shop is:
DYNOTUNED PERFORMANCE
820 Greenbrier Circle #15
Chesapeake, Virginia 23320
Here is their website:
DTP - Hampton Roads Auto Performance Center - Specializing in Performance Modifications and custom ECU Dyno Tuning - Welcome to DTP Racing.com
These guys know how to tune our cars!! They are the best CMR TUNERs of LX vehicles on the East Coast. No messing around here. You want your LX Dyno Tuned you need to sign up and get it done this weekend! First come first serve. The way we are doing it this time is you will need to email our DYNO WEEKEND SCHEDULER, me (MarylandSRT8) and reserve your spot. I will provide you with pricing and it will be absolutely imperative we obtain a deposit form you for Dyno Tunes only. (We are also willing to work with you and set up other arrangements!) Here is my Email Address:
My Email Address
[email protected]
So get your reservation in now. We will have 6 tune slots for Friday April 1st and 5 Tune Slots for Saturday April 2nd. PULLS will be first come first serve but if you want to reserve a spot be sure to email me.
Saturday's Event will be the major part of the weekend, here is the break down of the day:
Time: 9:00am to 5:30pm
1) EVENT REGISTRATION. When you arrive we will park you (Look for the guys with the YELLOW VESTS) then proceed to the registration tent. It is there we will ask you to register. Once you are finished we will provide you with a dash NUMBER and voting tickets for the CAR SHOW!!
We will have a First, Second and Third place Trophy for the following three classes:
1) All LX SRT8s
2) All LX Hemi
3) All other LX / Old School / Other Chrysler-Dodge
2) Next is FOOD, yes FOOD Park Dodge will be providing FREE food for everyone, Hot Dogs, Burgers and drinks. So bring an appetite!!
3) Next we will be having a 50/50 Raffle that will be for the
National Autism Society
. Please see this website, click
HERE
Tickets will be 1 for $1, 6 for $5 and 13 for $10. Please donate, this is a really important cause that we need to support!
4) We will have a MOD CORNER happening during the event. DA BOYS (Please let me know if ya got a MOD to install so we can get things set up) will be on hand to install thermostats, CAI's and help you out with your PREDATOR questions.
5) LIVE FM Radio Stations will be on site to advertise the event as well as we have local newspaper and TV coverage happening. We are waiting to hear from some National Car Magazines for coverage and will make the announcements as we hear from them. Polish up that LX man, you could be featured in a national magazine!!
6) HOTEL ACCOMMODATIONS There is a brand new Hampton Inn right next store to the dealership. I mean 100 feet away.
7) MOPAR HATS/SHIRTS/GADGETS The dealer will be setting up an outside MOPAR store that they will stock with car stuff, shirts, jackets and the list goes on so bring some cash and buy a few items. Pricing will be extremely competitive.
10) DOOR PRIZES Yes, we will have some super cool door prizes that you WILL want to get your hands on!
11) FOOD FOR LOCAL FOOD BANKS We are asking all participants in the weekend to please bring some canned goods for the local food banks. As you know times have been tuff and more and more folks are hitting up the local food banks so lets lend a hand and help out
12) FLYER Yes, we are working on a FLYER and it will be done any time now and we will get it out to you
13) To close this initial announcement I want to let you know the first 40 cars will get a free official Brass Dash Plague as a memento of the event
14) Now that you have your Tune or if you just want to Race we have made arrangements with Budds Creek (MIR, Maryland International Raceway) which is 20 minutes away to have a SHOOT OUT amongst all of us on Sunday April 3rd. We are waiting on the Particulars but we'll be able to race each other and the winner takes the POT.....so mark your calendars, this weekend is going to be a blow out!! We will be posting more on this very soon
As always we need to know if your coming so please respond to this announcement!! I will update this thread as we move forward!! See you soon and get ready