I discovered something that might be of use to any other Rattle Can Picasso's like me, so i figured I'd lay it out so y'all could spray it out.
Typical Scenario
:
You're painting the Hellcat style spoiler to put on your 2011-2014 Charger, and you keep getting blobs of paint coming out of the spray nozzle on your paint cans once you are down to the last 1/4 can worth of paint. (
Yeah, you know those spoilers are only meant for the 2015 and up body style Chargers, but damnit you don't like the way those the 2011-2014s wing style ones look on your car, so you're doing it your own way!)
Jerry-rigged Solution
:
Get yourself one of those Make-Your-Own spray kits that comes with the charged sprayer and a glass bottle for turning everything from varnish to pickle juice into a spray paint event. Then once you're down to the last of the regular spray paint (about 1/3 to 1/4 can left), and just spray the remainder into the glass jar for use with the little charged sprayer.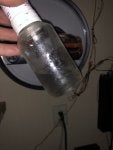 (
The pictures above shows what I got from the last of my clear coat can, but I also did this with the black color coat.
)
Then resume spraying the spoiler just like you had been with the spray can.
BLAMMO, no blobs!!
NOTE: this was done with an acrylic lacquer spray paint, and I didn't need any lacquer thinner or anything to help the paint flow. That may not be the case with an enamel or other kind of paint. Try it out first and see!