Discussion Starter
•
#1
•
This is not a sales thread but a introduction and important information about products you have bought or may been having trouble with from DSS.
the moderators have approved this thread.
Gentleman, I would like to take the time to introduce myself. Im Frank from The Driveshaft Shop. Some may know me and others may know
my company. Recently it has been brought to my attention that being a manufacturer we should be more involved in the day to day things
going on in the community. Over the past few years we have kind of left it to our distributors handle technical questions, address problems
and other things. We have always been around but from now on we want to be a more active part of the community. Addressing your wants, needs and concerns. i'm sure most of you are aware almost all of the fast cars on this forum run our axles and drive shafts. I am also aware some of you have had issues and i'm here to say that we will be here for you 100%. Since the beginning we have gone the extra mile to produce the best axles/shafts possible, recently we opted for "budget" type axles that we gave a 1000Hp rating. Wanting to make a better part for you at a budget price. I had designed this axle using the Factory ends with upgraded bars and Cv components, I tried to make the axles better by making one axle larger and one smaller to help eliminate wheel hop. Like other cars we have done this with, all we have managed to do is make one strong axle and one weak axle. To the customers that purchased these axles and had problems
i truly apologize and we are upgrading them as they come back and will continue to work with anyone that feels something should be done.
We recently have also upgraded our signature level 5 axles to now have the largest center bar of any axle to date (anyone seeing Aj's wagon a few weeks ago can attest to the strength of this new design) we are a full CNC shop and manufacture most of what we sell, we have taken the center race and made it from 300m so we could give you the strongest axle possible. this along with a new larger splined bar (inside the boot) and a new 4340 aircraft quality cage we have managed to make one of the strongest axles to date for your platform. Over the last week end Lingenfelter 6 speed Camaro running a very similar design axle broke the 8 second barrier. I know bringing up a Chevy on this forum might not be the most tasteful thing but i want to make it clear we have developed a axle capable of the stresses a 4200lb 6 speed car can put out and keep on going.
We have recently taken delivery of a custom balancer that was specifically designed to our demanding spec. this new machine is able to spin a
Driveshaft up to speeds of over 9000rpm (most balancers only spin at 400-3000rpm). I have been in business for over 35 years and i will say this, we have learned more over the past few months about actual speed balancing than i did in the last 34 years. When we came out with the 2 piece driveshaft's i designed a center hanger bearing that had a very high durometer rubber around the hanger, the reason for this was to try to stop the hanger from moving up and down during hard launches. The only problem is the way the car was built. there is no more body on chassis like cars of yesteryear. It has too many harmonic vibrations in the drive train and this was the reason for the soft hanger,rubber drives (the proper term is guibo joints) and rubber suspension mounts thru out the car. as more polyurathane mounts are used alsong with the solid type hanger it transferred the harmonic to the car. Now that we can spin the shafts at the speed it runs in the car we are able to balance the shaft better than any "factory" style shaft and guarantee a perfect balanced on all our our new shafts (as long as there installed properly)
I know this is a long post and if you have read to this part I thank you, Our presence here will be one of a support team gladly giving knowledge and technical assistance along with more sponsorships for the coming season. If you have a problem let me know, if you have not been treated fairly please let me know. also if you have a set of axles or a drive shaft that your not 100% happy with please send me a PM and we will discuss what can be done, no one should have to spend good money and have a problem. This is not what i founded this company on and we will do anything in our power to help correct the situation. We will also show our commitment to the community with exciting new product like the 9" kit we recently put in Papa Kooks car and more projects under way as you read this post. again i'm here to help you. I want to hear what you have to say in a clam professional way so we can both benifit from this post. Lets see what we can do for you and get cars to the point where record can be broke again and again and......
Here are some photos of the new 30 spline 300m parts being used in the new axles. look at
the raduios on that polished cage

300m sure has a nice color after heat treat, check out the bigger 30 spline on the left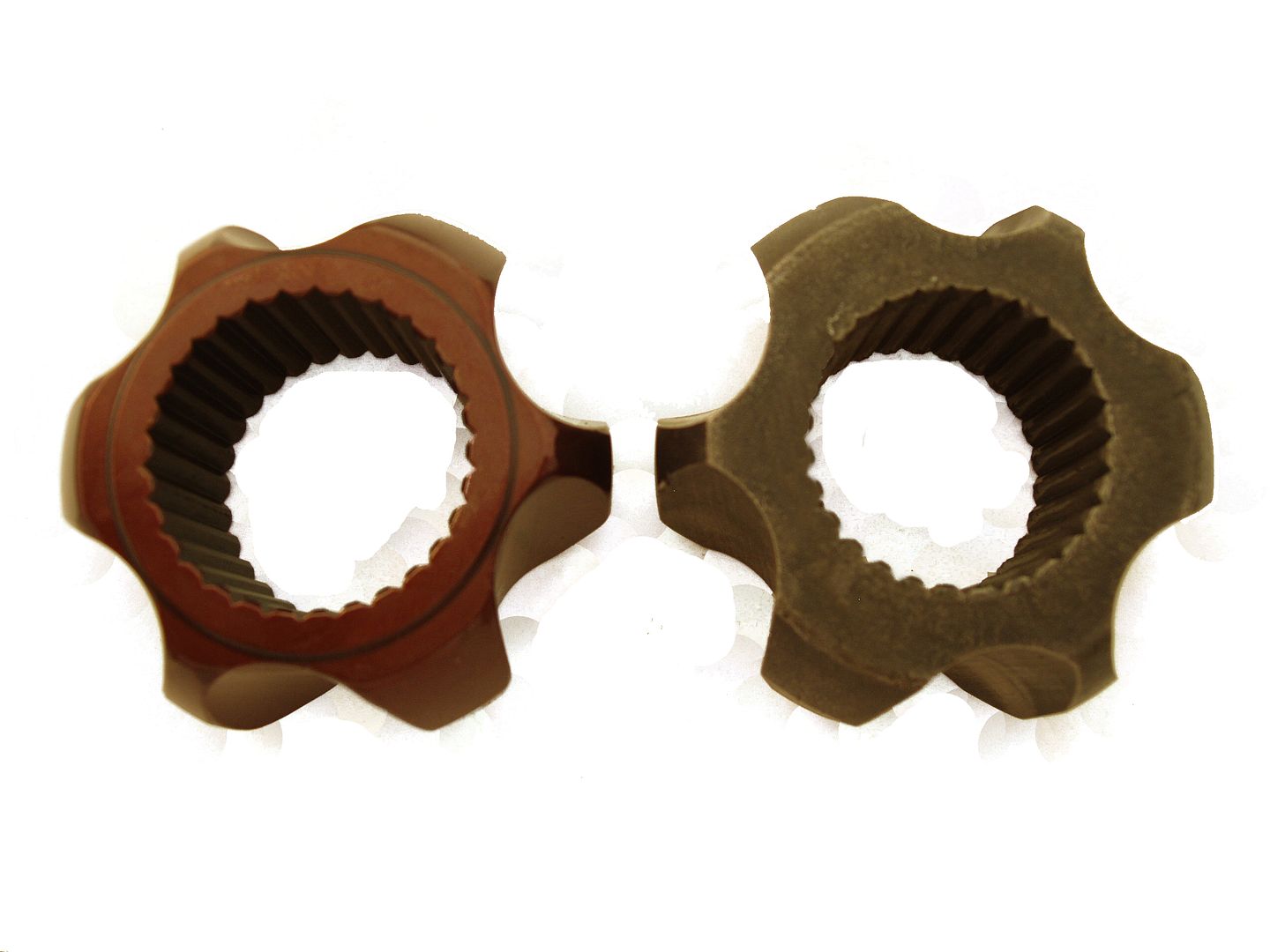 These axles are not stock parts inside, most dont see whats being changed or put into an axle so i thought i would show the professional aproach we take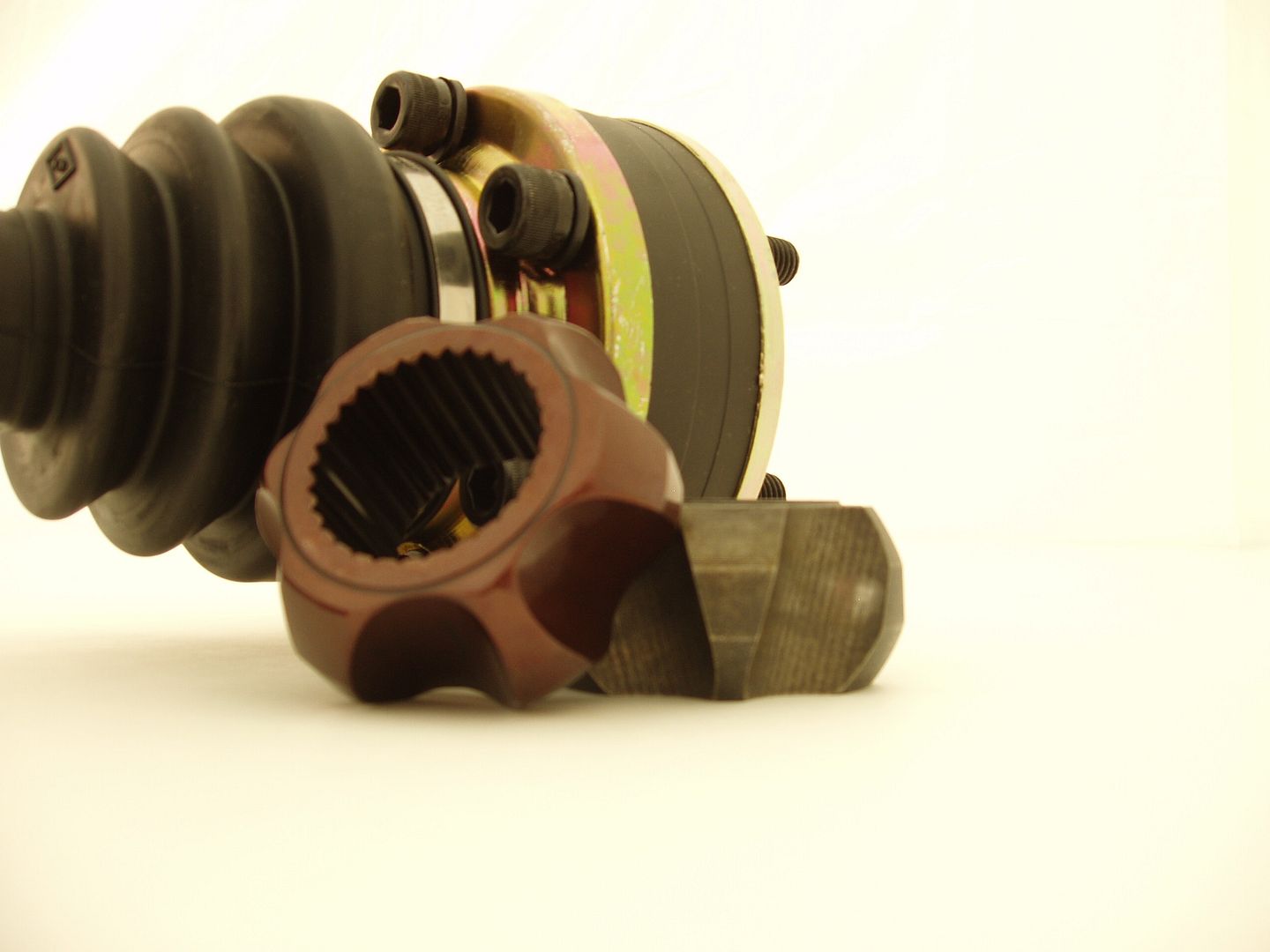 here is a picture of the new balancing machine, no one sold weights small enough so we had to add a drill to make sure the balance is perfect. in the near future i will post a youtube video of the machine in action .....