If your battery gets discharged overnight you have a pretty large parasitic draw and it should be easy to find.
I will list the diag steps to locate a draw.
1. Open both doors, hood and trunk lid, but lock all the latches.
2. You need a digital volt ohm meter (DVOM) to take an amp reading.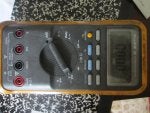 3. Set the DVOM to measure "Direct Current".
4. Have your meter leads as follows - Positive lead in the "A" 10amp fused slot, and the negative lead in the "COM" slot.
5. Make sure the ignition is off and disconnect the negative battery cable from the battery.
6. Connect the positive lead of the meter to the negative post of the battery, and the negative lead of the meter to the negative battery cable. (your meter is now wired into the system in series).
7. Lock the vehicle with the remote and observe the readings on the meter. The readings show how much current the vehicle is consuming from the battery. Wait up to 30 minutes for the vehicle to enter "Sleep Mode". Once the vehicle goes to "Sleep" the reading on the meter should be around 40 - 80 milli amps.
8. Since you have a parasitic draw your readings will be much higher. I assume well over 2 amps since it drains your battery overnight.
9. Once you confirm an excessive draw start pulling fuses out of their place one at a time until the draw goes away. Reinstall the fuse if there is not change before you pull another one.
10. After you identify a fuse that reduces the amp reading you have found the circuit that is your problem. You will need to see what is powered by that fuse and unplug these components one at a time to find the culprit.
Good luck!