Ladies and Gentlemen,
Please join us February 27th, 2010 for our first cruise of the year! This cruise isn't necessarily about the journey, but the destination. Our destination is La Quinta, for the 4th Annual Desert Classic Concours D'Elegance Car Show. The show will be held at the La Quinta Resort and Spa. The cars are placed on the grass of the La Quinta Resort's Golf Course. With mountain backdrops, it's a spectacular location for a car show. This car show, although only in it's infancy, is starting to rival the famous Pebble Beach Car Show for it's display of classic and extremely rare automobiles according to Hemmings Motor News. Most of the cars you will see are from private and museum collections. There is also a classic car auction that is included in your admission price. Come join us for a day of rare motorcars!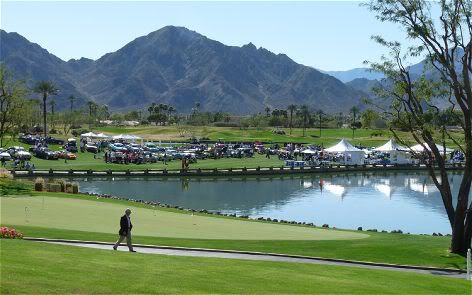 The show runs from 10:00A.M. to 4:00P.M. We will be parked in the car club corral section of the show. The auction is from 11:00A.M. to 2:00 P.M. The admission price is $40.00. The Concours is a non-profit organization and proceeds from this show will benfit local charities.
To order tickets online:
http://desertconcoursexhibitor.tix.com/Event.asp?Event=310390
To view the website for the car show:
Palm Springs Desert Classic Car Show: Concours d'Elegance - Exotic Car Show Events, Automotive Event Southern California Vintage Automobiles, Ferraris, Historical Automobiles, Palm Springs Road Race
The cruise will start from Stack Performance in Anaheim, Ca. Our approximate departure will be 7:00 A.M. A second meeting place on the way to the show will be in Banning, Ca. around 8:00 A.M.for those of you in the Inland Empire. Exact departure times will be posted closer to the event. See you on the 27th!
Attendees:
1. Deuce
2. REDDOG
3. Sparkchicken
4. ChuckR
5. Infernored
6. Hitman
MEETING PLACE INFO:
The starting point will be,
Stack Performance
1275 N. Lance Lane
Anaheim, Ca. 92806
Meeting time is 6:30-6:45
LEAVE PROMPTLY AT 7A.M.!!!!
The 2nd stop on the way will be,
IHOP
730 W. Ramsey St.
Banning, Ca. 92220
Meeting time is 7:30-7:45
LEAVE PROMPTLY AT 8:15!!!!