Those are factory installed jack points for the rear. For some weird reason, they come with rear points but not front.
This company sells the same type of thing for the front. For '17 and newer there is a threaded hole they go into. For '16 & older you need to put an insert into the subframe. I have them on my '16. They were a little bit of a PITA to install but once they are in they are solid. I did notice the front are a bit further inboard than the rear. Its a harder reach with my floor jack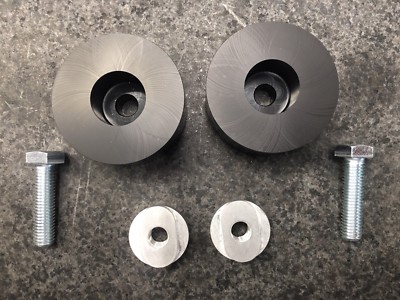 Find many great new & used options and get the best deals for Challenger / Charger / Magnum / HellCat / 300 Front Jack Pad 2008-2016 at the best online prices at eBay! Free shipping for many products!
here we go, this shows the 'notch'/indent in that plastic rail along the bottom edge, near the rear tire. It also shows that plastic cone thing, Its pretty solid. maybe that is the jacking point? One on each side of the car.
Hmmmmmmm
Parrott

It has the 'Chrysler' emblem on the part, can't beat that : )
closer:


If its a jack point, good location. If it isn't , well , then we need to add jack pads on the rear of the Challenger. I have to wash the Challenger,
parrott