Greetings,
I can't seem to find a good guide out there for people to follow for spark plug replacement, so I would like to fill that void. I can't imagine the 6.1 and 6.4 would be too terribly different from this guide, but maybe someone could chime in on that if there are any major differences.
Difficulty level of the job isn't too bad. I'd say maybe 4/10 for a person familiar with mechanical experience. Maybe 7/10 for a person that has little/no mechanical experience. Expect the job to take about 2 hours from start to finish.
Reasons why you would want to DIY:
1) Money. By DIY you will spend about $75. To have a shop do this, you're probably looking at $300.
2) I don't like other people touching my car for a job that I'm capable of doing myself. Others are not going to treat her the same as I would. Perhaps you would feel the same.
3) You get that special bonding time with your road buddy.
Tools you will need:
1) 5/8 Spark plug socket. It has rubber inside it.
2) 2x 3" ratchet extensions. At least one needs to be a locking extension.
3) Ratchet wrench
4) Torque wrench
5) 10mm socket
6) Gapping tool. I used a feeler gauge.
7) Needle nose pliers. I used a 45* long handled. Use a pair that gets a nice strong bite.
8) Q-tips and an acid brush
9) Anti-seize
10) Di-electric grease
You'll need 16 spark plugs. I went with the mopar plugs. P/N is 4-SPLZFR5C11
Most tools are shown below:
First thing you need to do is gain access. Remove your engine cover. Pull up on the front and then on the rear. It's just held on by 4 ball mounts.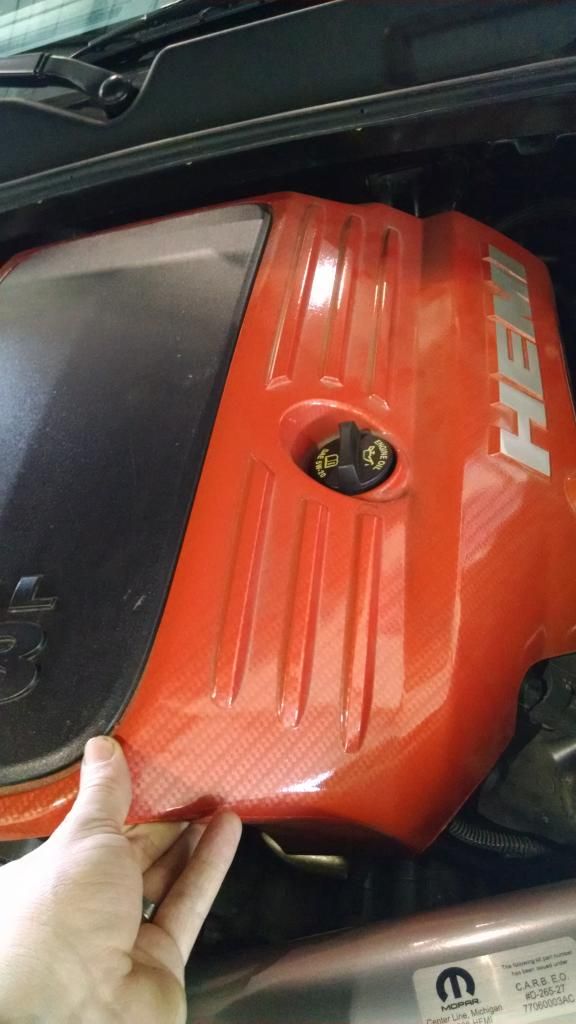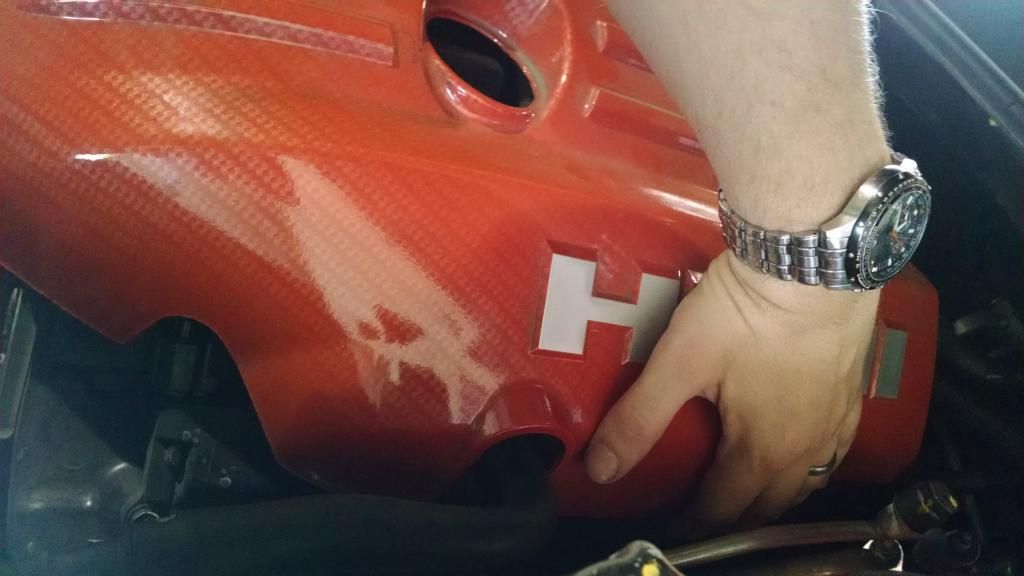 You'll see the coil packs now. There's 8 of them. Each are held on by two 10mm bolts. Break them loose and you should be able to unthread them the rest of the way by finger. Remove them both, take care of the washer under the bolt head.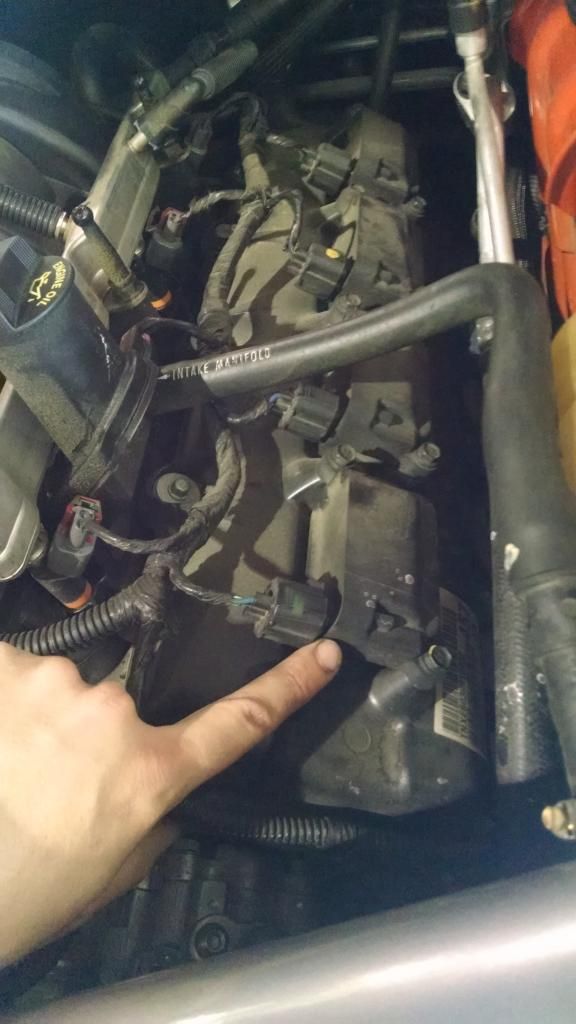 Wiggle the coil pack back and forth a bit while pulling away from the cylinder. You'll hear a suction sound as it separates from the spark plugs.
Your spark plugs reside in these two deep holes.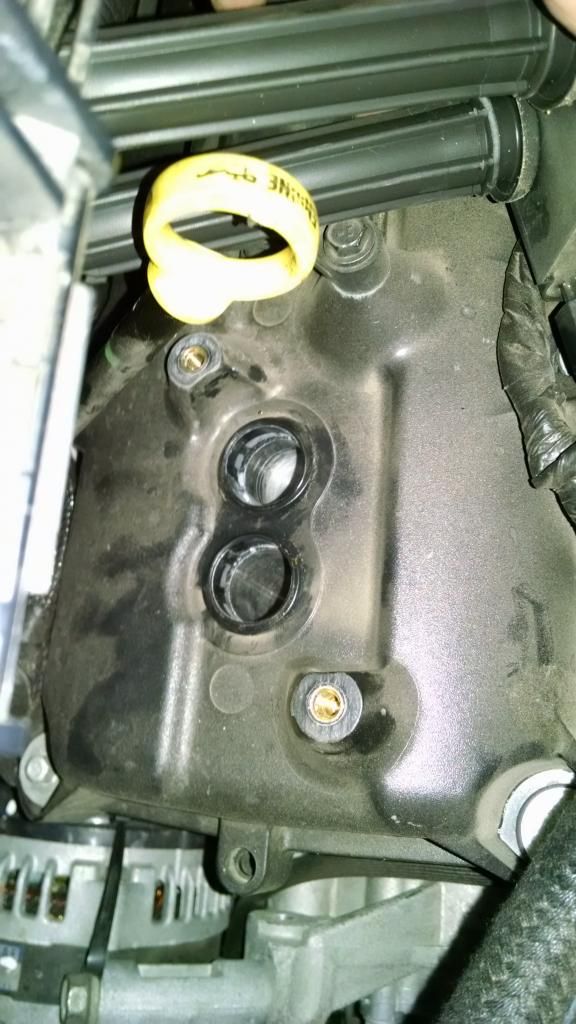 Afix your locking 3" extension to your 5/8 spark plug socket and feed it into one of the holes.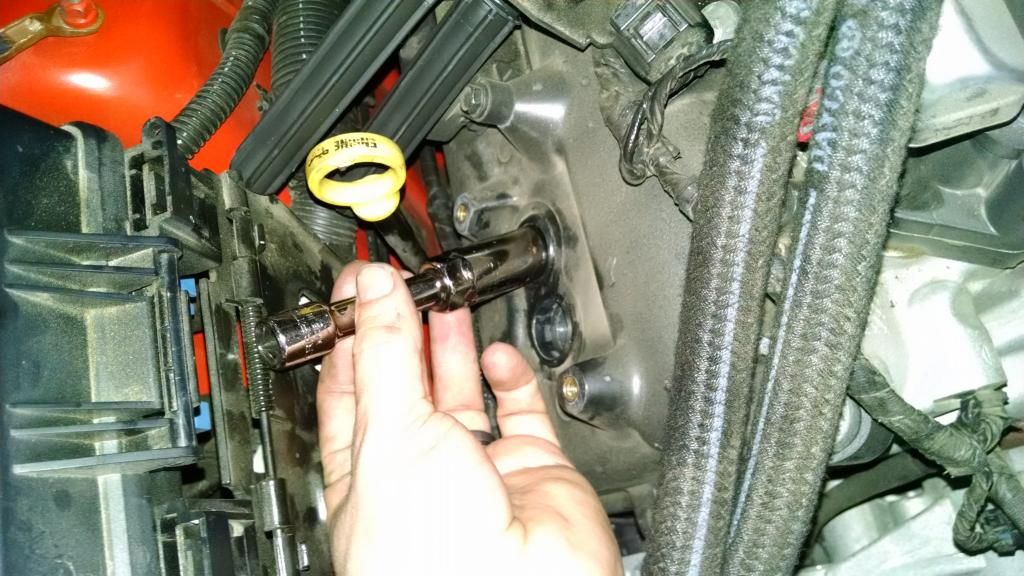 Put your other 3" extension on at this point and push straight down into the hole while twisting until it seats down onto the spark plug. Put your ratchet on now and remove the spark plug. They are probably in there pretty good. High removal torque in tight spaces plus knuckles... try not to loose too much knuckle blood and skin.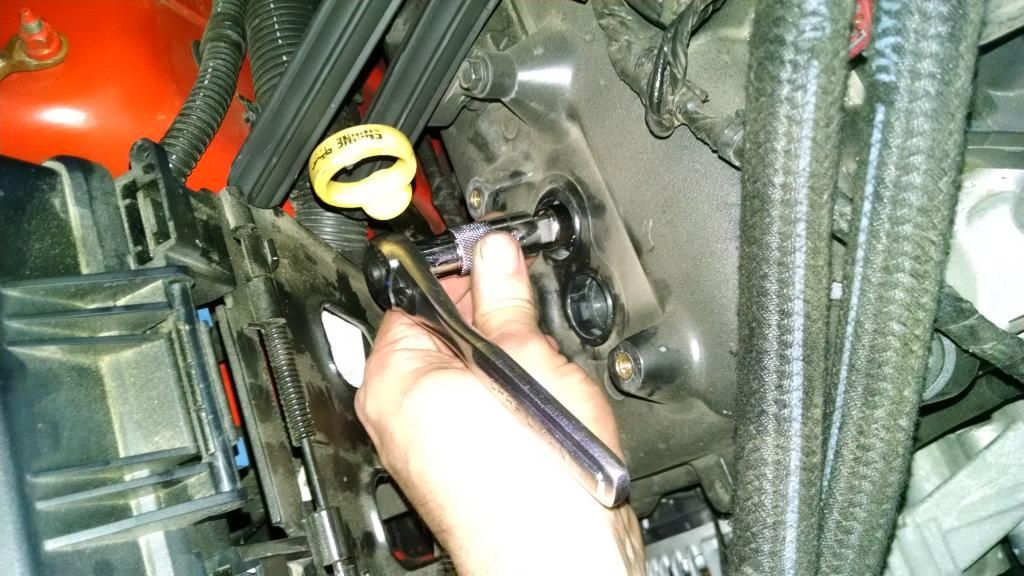 After you break the spark plug loose you can remove your ratchet and just thread it the rest of the way out by hand. When it's loose from the cylinder head, remove the top 3" extension and remove the locking 3" extension, the spark plug socket, and the spark plug.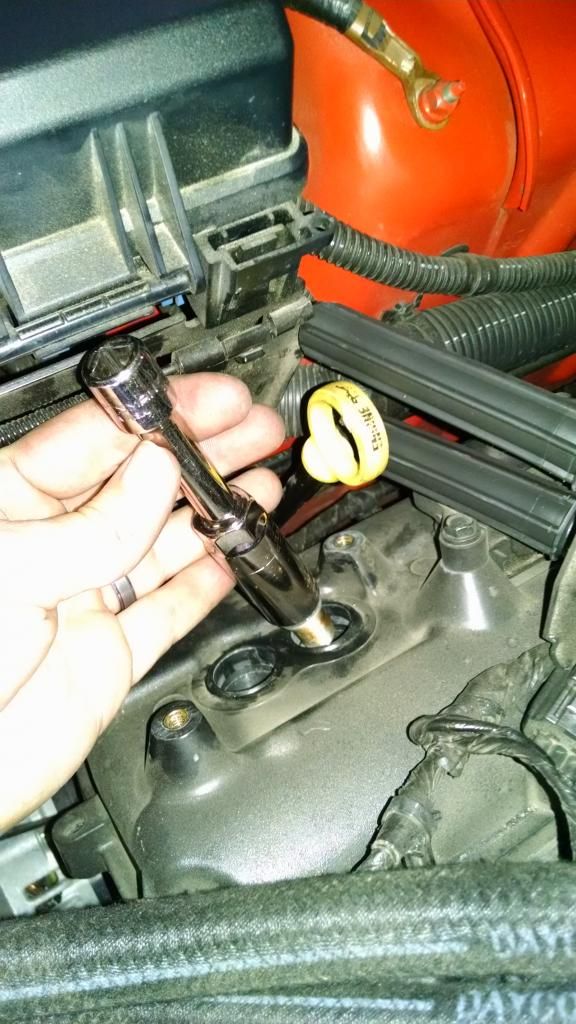 Prep your new spark plug to replace the one just removed. Gap it first to .043". For feeler gauges you can stack two feelers to make your .043" like so.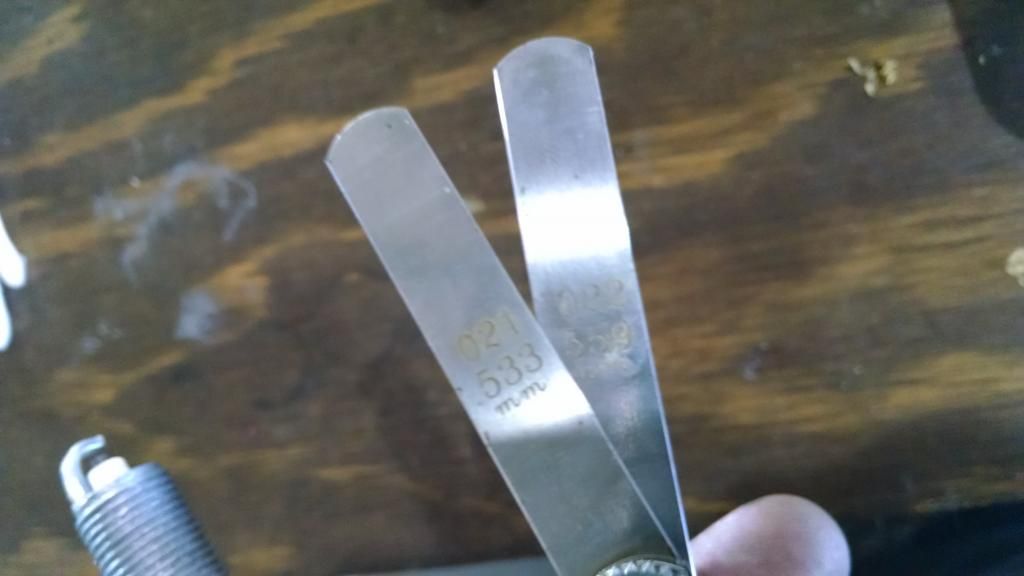 A .043" gauge should fit nice and snug in the spark plug. If it's too tight or too loose, very gently bend the L tang to achieve .043"
Put your spark plug into your spark plug socket and 3" extension. (Note the knuckle buster I was warning about:werd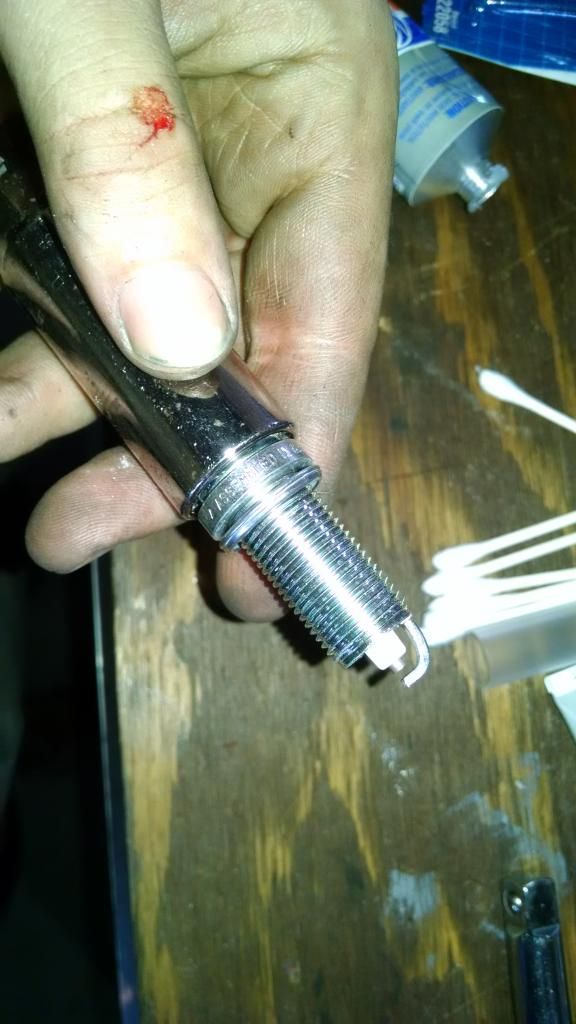 Using your acid brush, apply a nice thin even coat of anti-seize to the threads of the spark plug.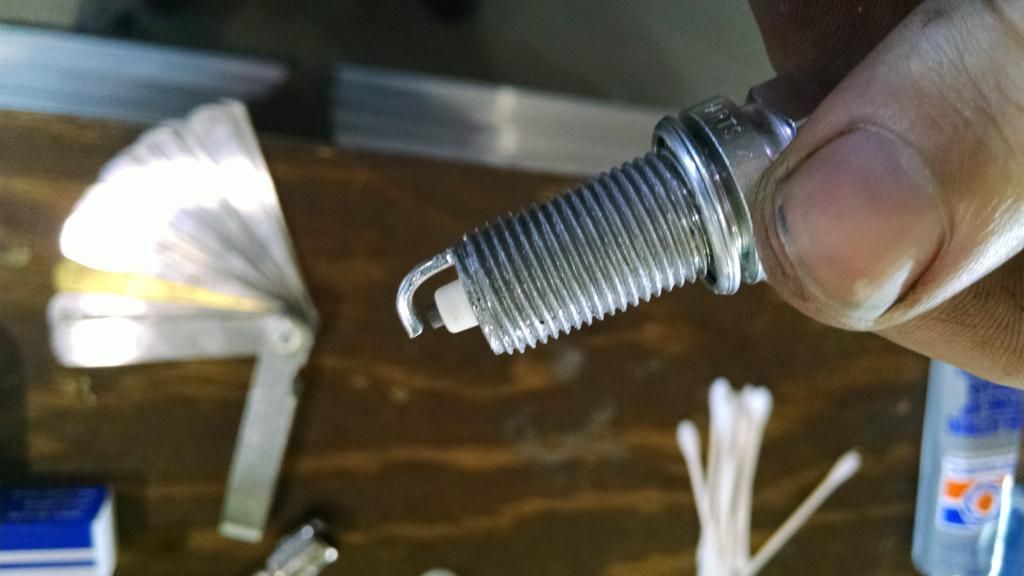 Now very gently and carefully slide the new spark plug on your 5/8" socket and 3" locking extension down into the cavity. Thread the new spark plug into the cylinder. Make sure you are careful here and you are straight. You definitely don't want to cross thread. You should be able to easily turn the spark plug several full rotations.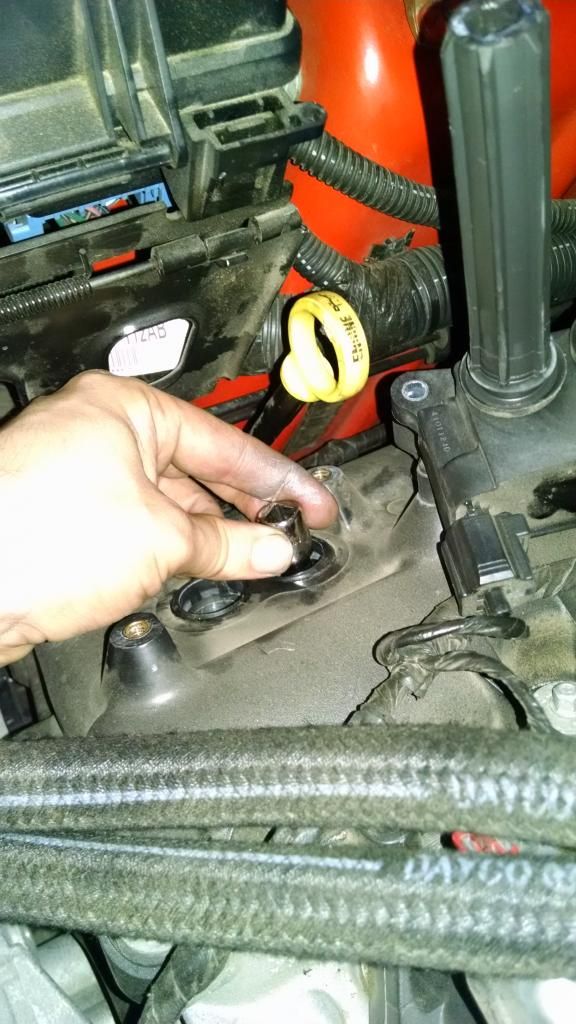 Now put your torque wrench on to finish the spark plug install. Torque is 12-14 ft/lbs (144-168 in/lbs). I went with the middle of the road at 13 ft/lbs.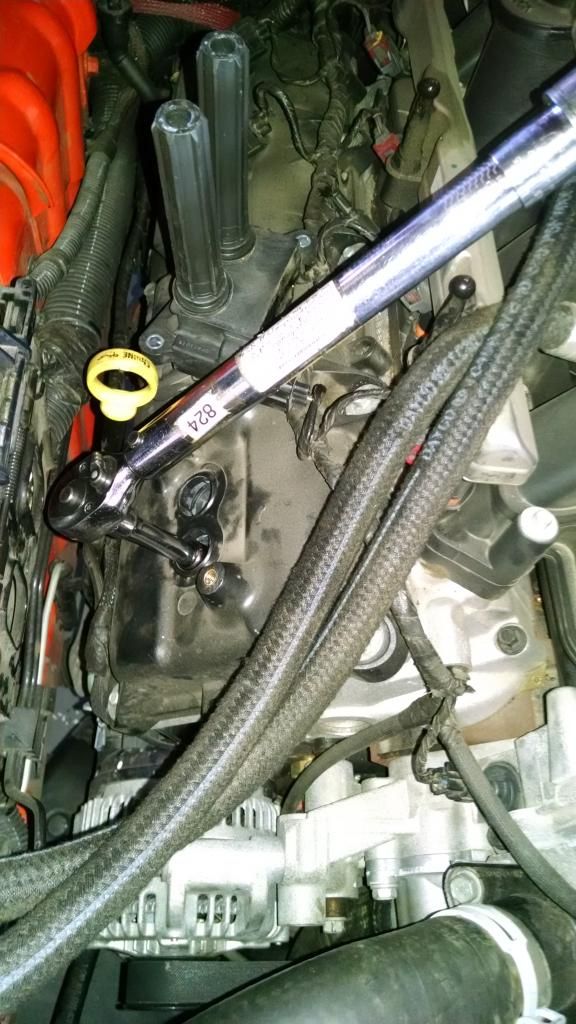 If you have a second locking 3" extension then that'll make extraction much easier. I didn't have another handy so I used a nice set of needle nose pliers to carefully grab the extension and rock it back and forth while pulling until the spark plug socket releases from the spark plug.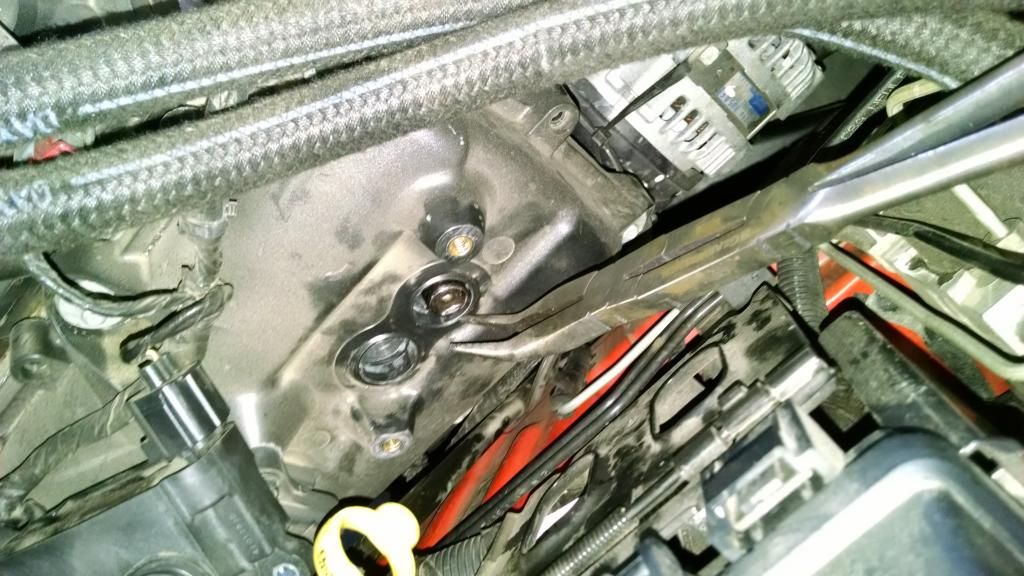 Repeat the same for the other exposed spark plug. After that, you'll want to put a thin coat of di-electric grease on the inside of your rubber boots. Take care that you only apply a very thin coat inside and that you don't get any on the metal contacts. Di-electric grease is an insulator, getting it on your conductors would be self defeating.
Now just slide your coil pack back into place and secure it back down with the two 10mm screws/washers. Torque on the 10mm screws is just snug. Don't crank it down too hard.
That's it! 7 more to go.
Drivers side spark plugs were much easier to change. Passenger side most forward and furthest aft were the most difficult cylinders, but not too bad. Fuse box is slightly in the way on the forward cylinder and this thing pictured below was in the way on the aft. Honestly, I can't think of what that thing is lol. Anyways, you can slide it up and over the mounting bracket and push it out of the way a bit.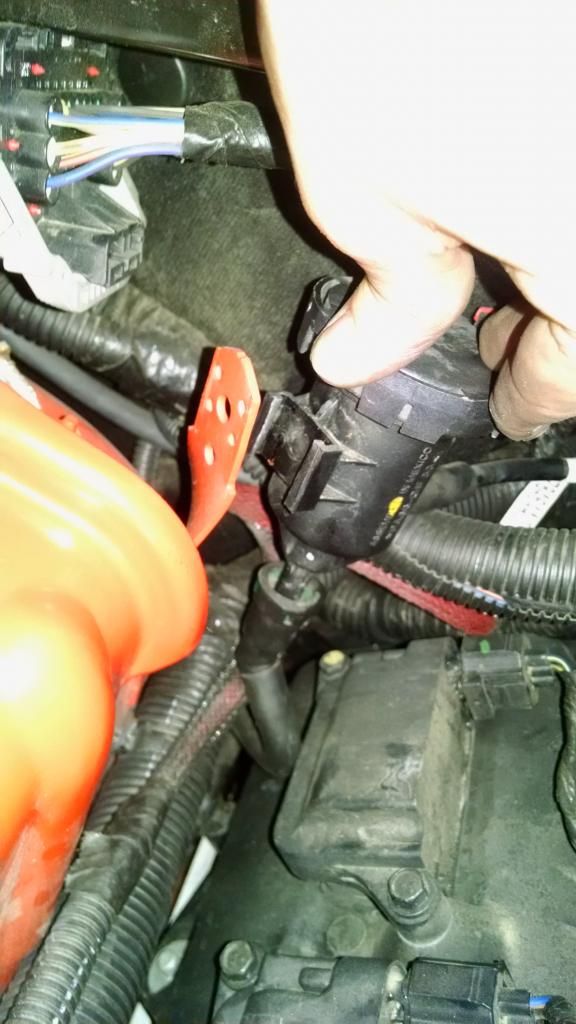 Now things wouldn't be normal if there wasn't at least one wrench thrown in the spokes at some point, right? Thought I'd share what happened as I was starting on my 5th cylinder spark plug install. Installed and torqued the spark plug, went to remove the spark plug socket and 3" locking extension and how convenient... my 3" locking device became weak and no longer has the locking strength to pull out the socket. What to do? Just put an extension back in there and remove the spark plug. Tried to install and remove my socket a few times, it wasn't going to work. What to do now... panic? Nah, grab the super glue! :browsmiley: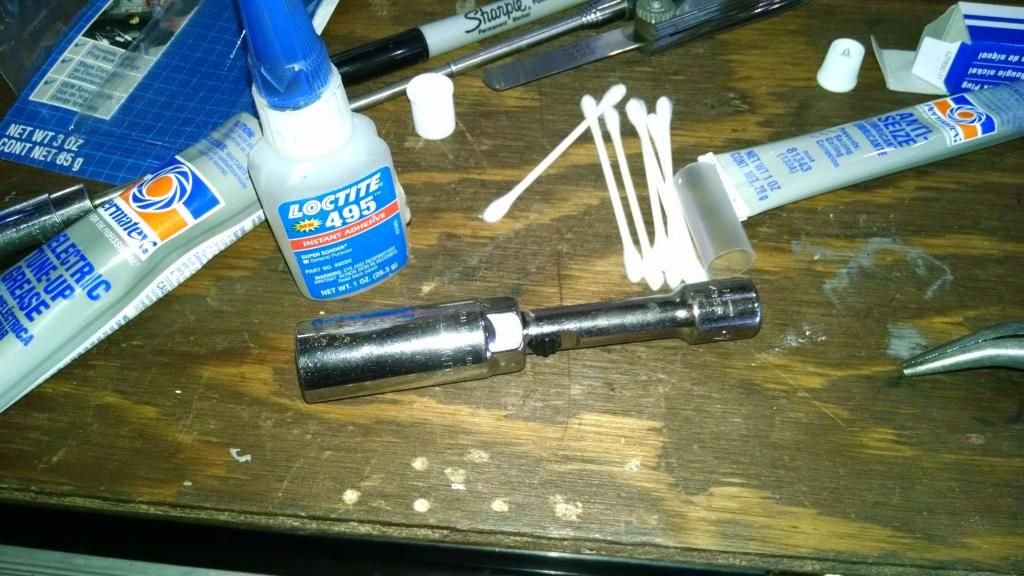 Temporarily fused my 3" extension and spark plug socket into one piece. Good enough to finish the job off. :guiness:
This change took place at 35.5K miles. There were a good number of 'spirited' miles in there too. Manufacture recommendation is at 30K miles. I wouldn't go much beyond 36K. After changing the plugs I noticed a definite difference in the throttle response. It seemed like there was some restored power.
Here's a picture of an aft cylinder removed spark plug. It looked pretty worn and was definitely due to be changed.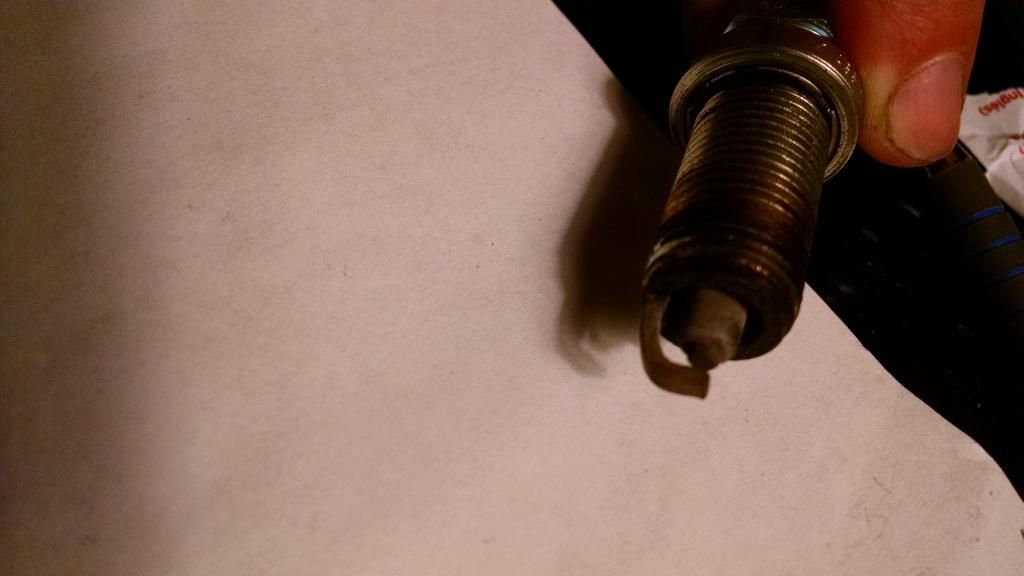 I hope this helps!
Dave