Discussion Starter
•
#1
•
The voting poll will be open from February 25 - March 2. The Winner will be announced on March 3.
Let the voting begin for your February 2014 Ride of the Month entries! Please refer back to the February 2014 entries thread for any mods listed by members. Thank you everyone!
The Poll will be open until March 2nd at 11:59 EST.
Good Luck!!
VenomBee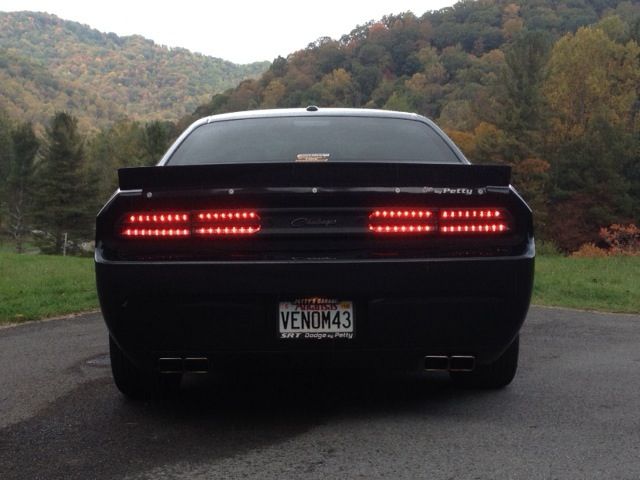 2011 SRT 8 Petty's Garage "Killer Bee"
Petty Performance Package Serial # 008
Killer Bee option #1 of #1
Magnuson Supercharged
Petty Custom Exhaust
Petty Suspension and cradle bushings
Petty front and rear strut tower brace
Petty Transmission Support
Petty Weld in subframe connectors
Petty Rear Spoiler
Pedders front and rear sway bars
20x10 20x9 Factory Reproduction Wheels and Continental tires with Petty center caps
Hurst 6 speed shifter
Petty Interior
Custom Petty Speedhut gauges
T/A hood
Scott Drake fuel door with Classic Petty insert
Petty custom grille
Tegris front spoiler (Steve White parts and installed by Petty with custom supports)
Arrington test car for tuning purposes
Arrington rear diffuser
Billet technologies engine dress up kit and STP catch can
HPP Taillight treatment
Oracle Halo multicolored headlights by "Big Ed" at N.W.A. Custom Car Audio in Rogers, AR
LED taillights
Big Worm Graphics side maker blackouts
11RTMayhem
2011 Challenger RT 6SPD (AKA Mayhem) Tungsten Metallic
MODS:
Mopar CAI
3" Spintech Pro Street 6000 Custom Catback exhaust
Diablo Intune 91 OCT Tune
RWHP
363 HP/395 TQ
Charger SRT8 Replica Wheels 20x9
Hankook Ventus V12 245/45/20
Mopar Stage 1 Lowering Springs
Strobed "nostril" hood stripes
Rear Strobe Style Side Stripes
Mayhem rear spoiler blackout decal
$50 LED Halo mod
GTS clear headlight covers
2 10" Alpine Type R Subs
Webelectric Sequentials
DougandMichelle
2012 SRT8 Auto bought new two years ago this month.
Mods:
All 5 original surviving Beach Boys autographs on my glove box door.
Solo Mach X SRT exhaust with quad round tips
Eibach Pro Springs
American Racing Torq Thrust M 20/10 and 20/8.5 295/40 and 245/45 Cont DWS Extreme Contact tires
Window Tint
B.T. Catch can, Door sill guards, shift knob, and Strut covers
MOPAR front strut brace
Webelectric sequential turn signals
Removed Rally Stripes and replaced with Belt Line Stripe
jsbowl16
usachasen
Avi
2012 SXT "Orthus"
AAC Demon Eyes w/ smoked headlights
Inferno Orange dual strobe stripes, grill surround
Inferno Orange Challenger and Mopar Badge
20"x9" Rocket Racing Boosters in Black
Hurst shifter
Orthus Billet Tech. Shifter Plate
FlowMaster Super 44 with reso delete
DiabloSport Trinity T-1000
K&N 63 Series Cool Air Intake
Superwhite
Mods list:
5% tint all around
Carid white interior kit
Mopar T-shift
Mopar pedal covers
Carid challenger sill plates
Louvers
Carid challenger mats
HPP "Superbird" kit
jtashjian
Cggleghorn
Blacktop
MODS:
Exterior
Tint
Hoodpins
Black Grille Surround
Black taillights & Side markers
"Affordable halos"
10000k HID'S low and fogs
Srt Rims
Strobe lights in grill and side markers
Quad Exhaust tips
"Mopar door projectors"
Painted calipers
LOTS OF STICKERS!
Interior
color changing footwells
custom light switches
custom nav background
Performance
Custom 3" straight pipes and X-Pipe
AirAid CAI & Charger tube
BT catch can
braided hoses
a little engine dress up
diablo sport tune
"Dodge" projector on underhood
Megan Racing Coilovers (2 1/2" drop)
Djnoeg214
swiftjr
Blue Chally