Ae has now become a vendor for K-Sport performance parts.
I have know Nick the owner of K-sport for about 3 years and his shop is about 1 mile from mine so I finally set up an account with him because I know from first hand experience how bad ass his suspension parts are. If you don't believe me read some of their accomplishments
Ksport USA - Performance Suspension
.
Ok down to business they have in stock 62 sets of V6 coil kits for the LX and LY platform cars with V6's. This is a set of front and rear lowering springs with a 1.75" drop. they come with all the warranties that K-Sport offers...they also offer big brake kits and other suspension related parts.
These springs are rated for the V6 they could be used on V8's but that is your discretion! We will be offering a V8 GB on the coil over package that K-Sport sells but I have to make sure we have enough in stock!
GT Lowering Springs
Ksport GT lowering springs have been designed to give your car superior handling with an aggressive race look. Most other brands use a linear rate, but Ksport utilizes a progressive rate for several reasons. A progressive rate allows a plush comfortable ride under normal travel, but since the rate shifts higher during compression, it stops "body roll" during heavy braking, hard acceleration, or fast cornering. By lowering the center of gravity from OE height you dramatically improve performance and handling characteristics.
Ksport Suspension Company is dedicated to bringing quality aftermarket performance products to the market year after year. Built on a foundation of motorsports, our products have been proven both on and off the track for over 10 years in countries across the globe. We will continue to expand our vast array of applications and our commitment to customer service in 2008. We would like to welcome you to our family of dealers, tuners, race teams and customers across the globe.
We are proud to follow the highest standard of production which is apparent in the high quality products that we produce. Through aggressive Research and Development, we now offer over 200 coil over applications, and many new products will be introduced.
All warranty work and replacement parts will be serviced in the United States, creating no-hassle support for customers.
There are 50 sets in stock and they are all ready to ship list price is $210 but we are going to sell them for $170.00 a set plus shipping order today and they ship tomorrow.

PM me or Ryan for details.

We will be doing a install video for this when we put the set we have on Ryan's car.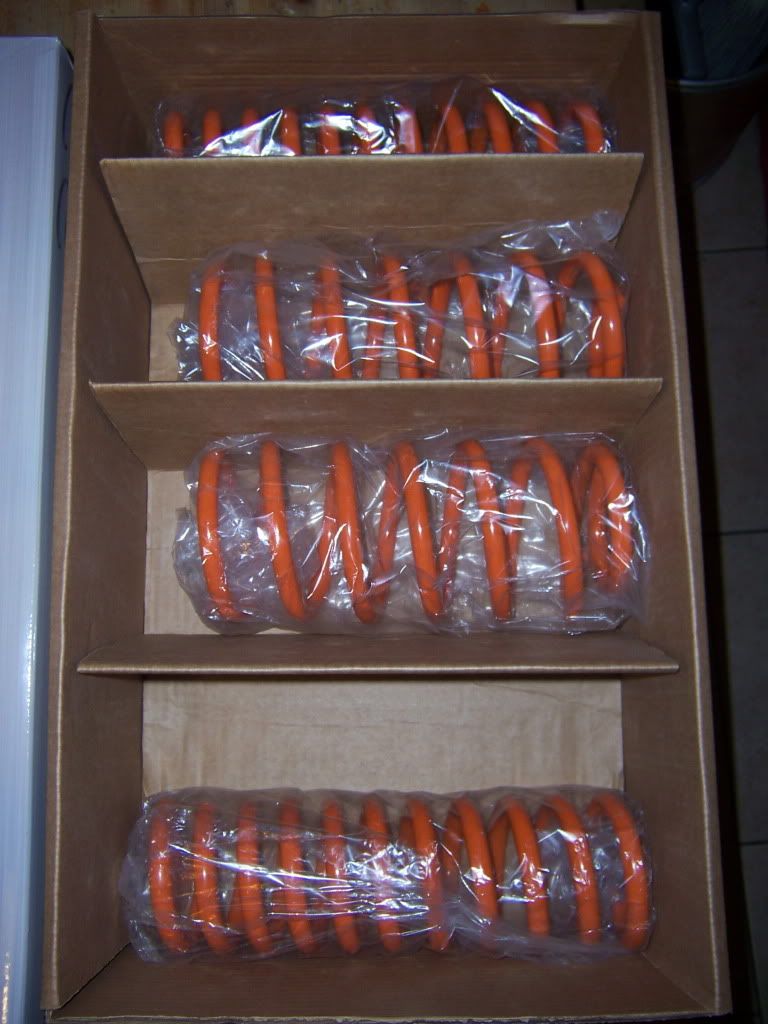 ​