Is GOOD!
After months of research, and listening to videos, and reading, and fretting, I finally got my Zoomers installed today by Frank down in Laguna Hills CA. We met there at 6:45 am so I could still get to work in Burbank in a timely fashion. First Frank was a great guy and it was a pleasure to hang with him and watch him work his magic for the hour it took to do the install.
Now, I've mostly read glowing, gushing reviews and comments about Zoomers, but just as I was pulling the trigger I did finally come across some negative posts about Zoomers (mostly from 2009) regarding weld quality and the design of their X-pipe. Many came to the defense, but a few critics where not to be deterred. I think the X-pipe design issue has finally been laid to rest since it is NOT an issue. It is in fact the very same (or similar) design that Dodge uses on the stock system to help get rid of drone. Say what you want, but it works great! Next, welds. I do wear glasses, but they looked great to me. The whole system looked quite good as a matter of fact. Top quality stainless steel! My wife saw it and said it was too bad you can't park upside down to show it off (well, not sober anyway - maybe someone will invent a car rotisserie). Here's a few cell phone picks to help visualize....
Old new stock system going into storage...it served me well for those first thousand miles...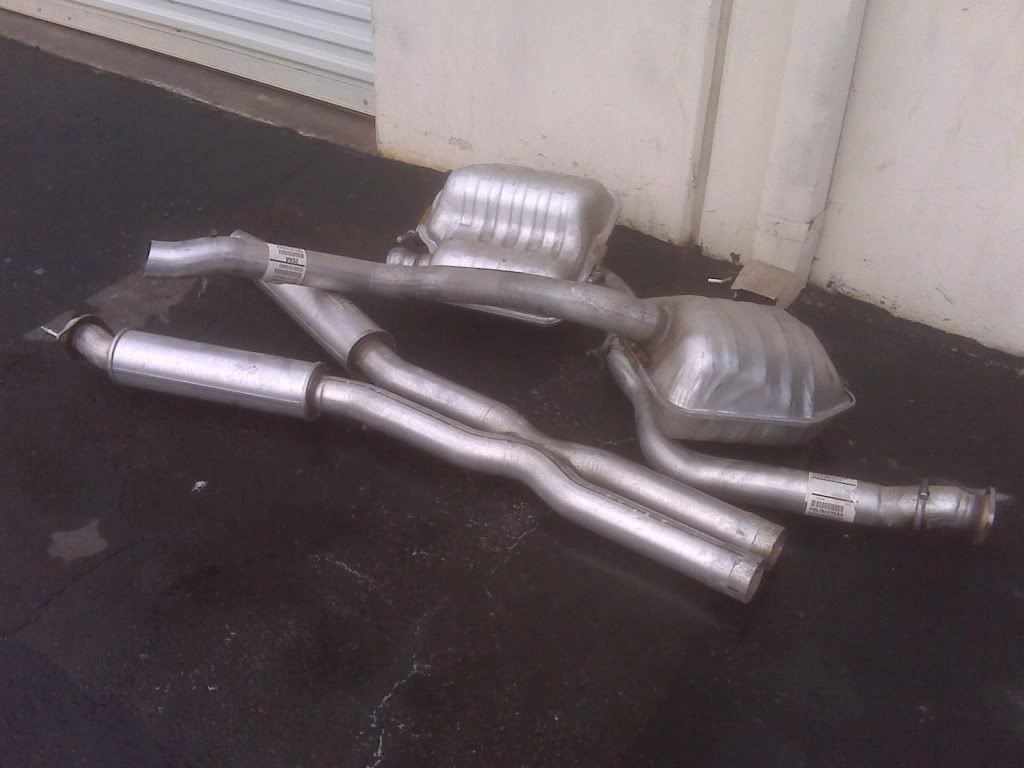 And here are a few of the new hotness...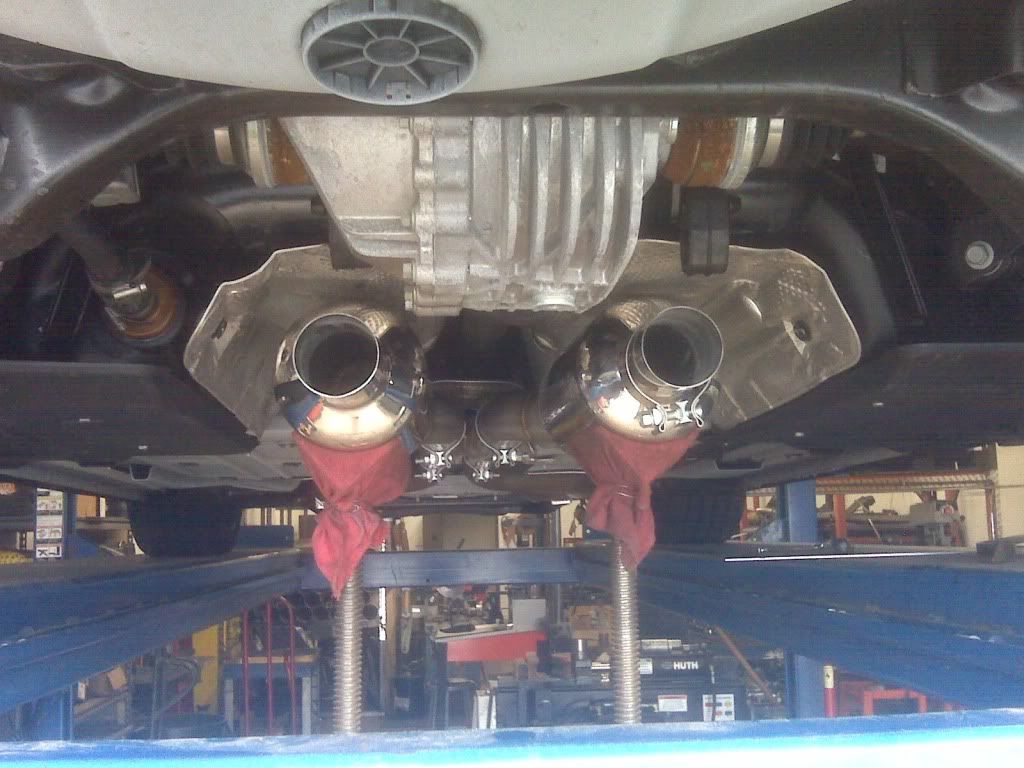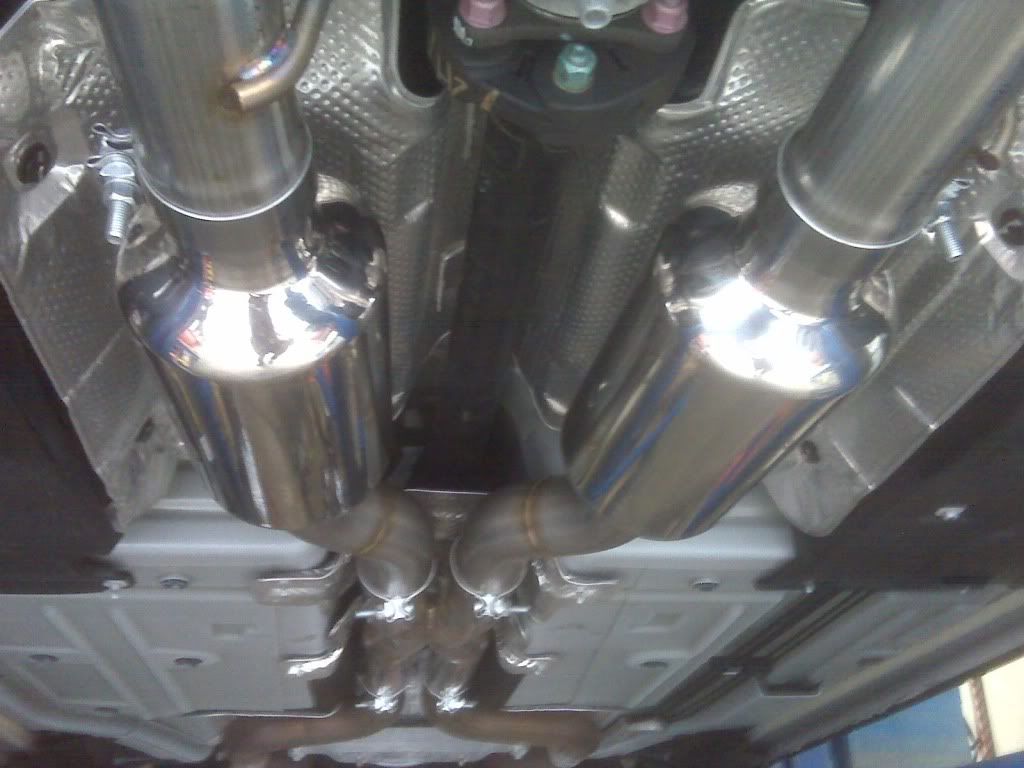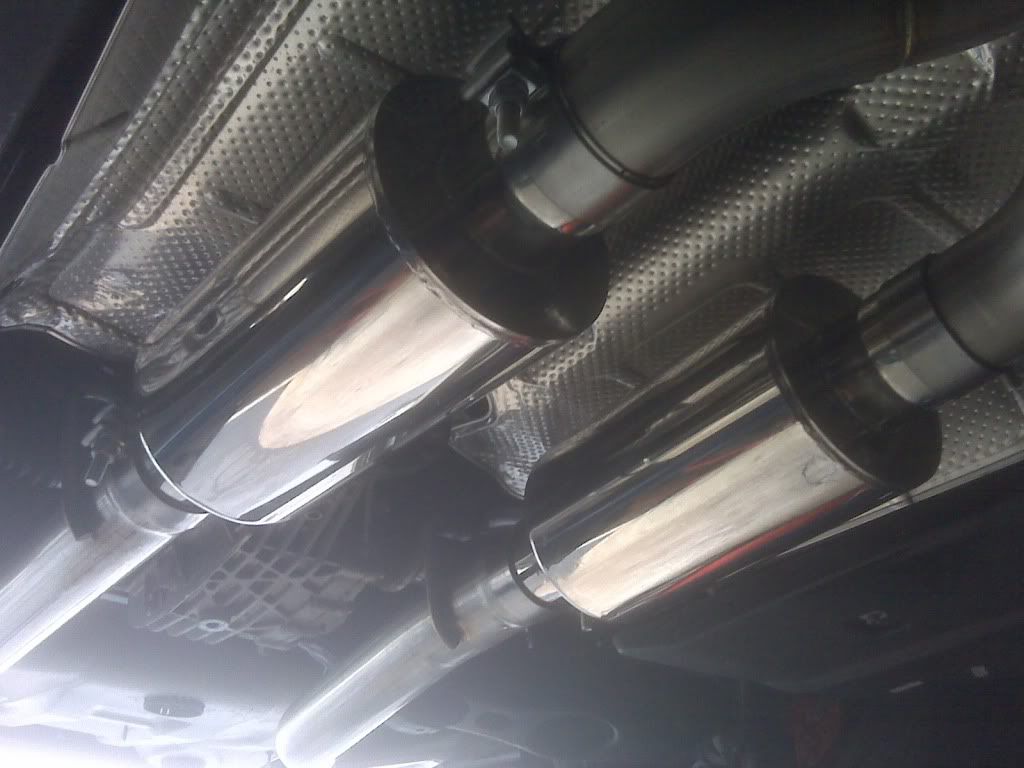 Frank doing his thing...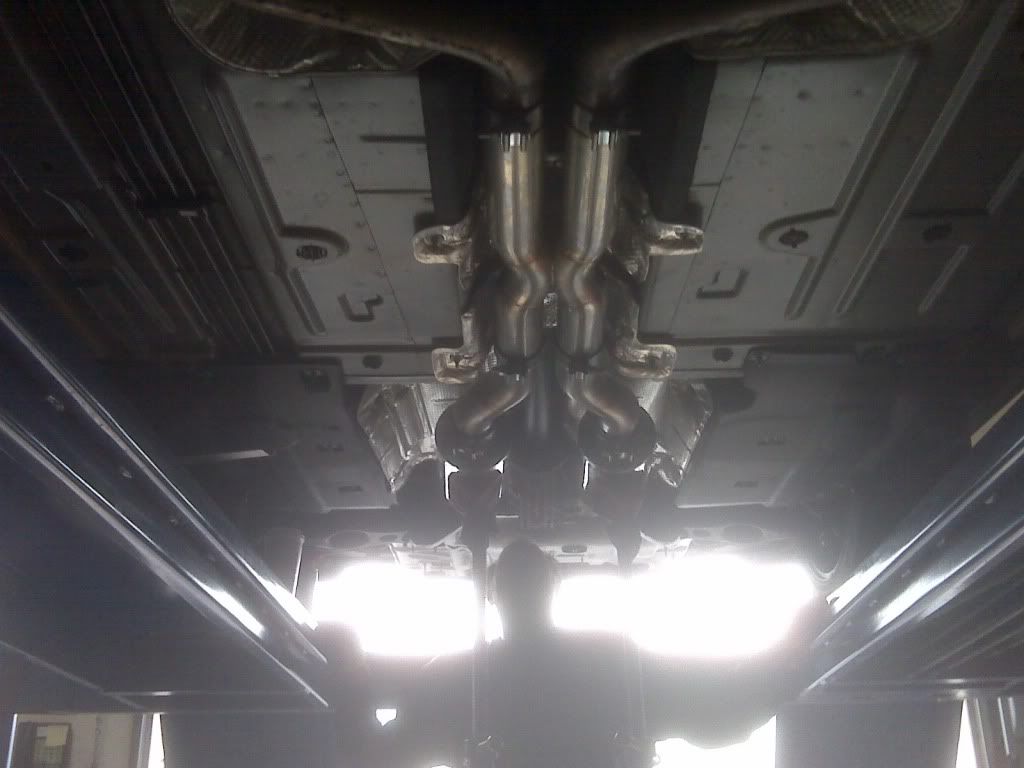 So the pipes were on and it was time to fire it up!
all I can say is Holy Cow!!
...YES!!! THIS is what these cars should sound like!! Amazingly deep and throaty. Purrs through the cabin at cruising speeds and growls like a lion on acceleration - or ROARS if you really get on it, but still nice deep tones. No cracky high pitched unpleasantness. I will say these are as loud as I would ever want to go, but at the same time they have a mellow character because of the warm tone. I found it easy to control the volume and keep it quiet by just being gentle with the throttle which will be great for my neighbors. The engine was so much fun to listen too I kept the radio off for most of the 60 mile ride to work. When I DID listen to the radio I was happy to notice it was fine at about the same volume I was listening to it on the stock exhaust (13-16 for background, 18 - 21 to really HEAR it on the freeway...past that just for ACDC Back in Black, Zep, The Eagles, or Freebird -I am 43 after all. Billy Joel or Bach's compositions for solo cello are strictly windows up affairs on the freeway). Also zero drone!! Truly awesome!! There is a slight flutter with the quad tips, but it's minor and didn't really bother me so I'm sticking with them for now. This is what quads sounded like back in the day anyway...Call me completely satisfied.
I would say these are right under my threshold for "loud" regarding volume. Maybe on some days it could be slightly close to the line if I weren't in the mood (we're talking cross country trips here - can't imagine why I wouldn't be in the mood, just guessing here), but I was able to short shift to tone them down WHEN I'm trying to be quieter. Again at cruise on the freeway and in town they just purr along so you can pretty much dial the amount of sound you want at any particular time. The tone literally made me giggle a few times while driving.
(Update:5/19/11 - I would say these pipes are not "loud" as much as they are fat and full sounding. I had my buddy drive by me while I stood outside and they really were not loud at all. Just real nice!! Inside the car I still can't bring myself to turn on the radio because they are still so damn much fun to listen to.)
I will say on deceleration IN GEAR with engine drag they produce a sound a little like drone, but I usually pop into neutral and just use the brakes for stopping as an old manual habit which you can't really do with an auto. Again, this was ONLY on deceleration in gear and even then it wasn't bad, just different. (update 5/19/11 actually really like this sound!! Mean and growly...I'm downshifting more aggressively sometimes just to hear it. With these pipes the car positively "talks" to you it makes so many expressive sounds.)
Here's a flip cam video of my wife doing a couple of revs and passes with the car through our quiet neighborhood....nice one honey.
Video cameras just can't seem to capture the ultra low frequencies and richness of these pipes (probably any pipe) There is a slight flutter at the end of the video (after I walk around the back while she is reving lightly - yes, very light...it's late here) that is from the quad tip. Stock tips don't flutter I've read. They are $300 and the flutter really doesn't bother me. It's more of a "snarl" if anything. The camera battery died before we could do the interior sound levels. Again, NO DRONE! Normal conversation levels. Nice reminder the engine is there burbling along while cruising. Sound on demand. Just tilt the peddle.
My final thoughts are....
I've had the car about a month. It's my daily driver and it has a little over 1,000 miles on it. I've never had a car close to this nice or remotely this expensive. My money usually winds up in Harleys or Ducatis. Something about THIS car said YES! BUY ME AND PASS ME DOWN TO YOUR KIDS WHEN YOU ARE TOO OLD TO DRIVE! I can't really explain it, nor do I know how it knew I would fall for such a line...
So after going through all the thinking and hair pulling and gnashing of teeth that goes with spending roughly 50K when you have 3 kids to put through college...etc..I met a great salesman (Lee Brown out of Nebraska) and he did me a wonderful service and sold me this magnificent car by helping make it as affordable as possible. Thanks Lee! and just like that the car was MINE!!! Honey!! it's HERE!! the CAR!!! I mean the CHALLENGER!!!! Wow is this car cool! Man is it FAST! what a BEAST!! A real Stump Puller! and holy cow it HANDLES and...I mean my god....just LOOK AT IT!!!! Yeah the kids are gonna be thrilled when I'm dead and they Finally get to drive it!!!
....................................Zoomers made it better.......
I couldn't believe it! My wife couldn't believe it! ("it's a brand new 50K car and your tossing the exhaust and spending MORE MONEY!!! MADNESS" - to be fair, she never said any of that ...but she should have!)
With the stock exhaust it felt like a powerful, fast, very well designed and engineered car and I really APPRECIATED it's many qualities and virtues. That's the key words for me..."Engineered" and "appreciated". Well...put the Zoomers on and change those words to ALIVE and EXCITED! For me the Zoomers are like the lightning that's needed to bring Frankenstein's monster to life! $46,815 for a great car and $1,200 to make it LIVE and BREATH!
Before the Zoomers I always knew I was in a nice car, and when I accelerated I even knew it was a big V8 because of the power and speed, and even a little growl from the exhaust. Now with the Zoomers I can hear and feel the menace lurking under the hood at all times. Not obnoxiously, but with a constant presence. The kind of power that doesn't need to be loud to be felt and when it does get loud it feels like it has a purpose. More soul too. It gives a voice to the raw visceral personality that our cars HAVE right off the show room floor, but is currently tucked away behind the lobster bib of the stock system - well designed as it is (so are lobster bibs if you've ever eaten lobster in a nice suit). Zoomers have made driving the car feel like an EVENT! It's the sound we all hear in our head when we LOOK at these cars.
The only undesirable side effect I've noticed so far is this...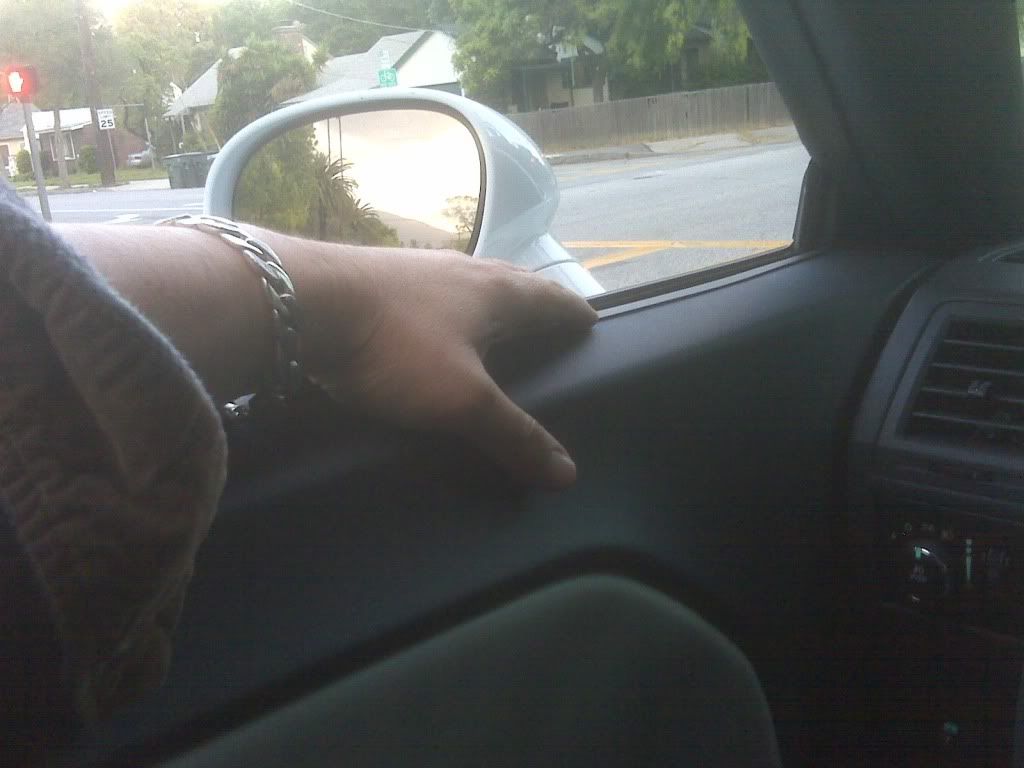 ....the tendency to drive with one arm resting on the window sill at all speeds and road conditions. Could be hazardous. Bugs in the teeth from smiling are another minor gripe.
One last thing I'll say. Socal is different than most of the country when it comes to cars...as in no respect. Everyone has them and there are more nice cars than anywhere else per capita, but having a Ferrari here just means you are going to get cut off by a Jetta because 1) that's traffic for ya, and 2) Nyeh Nyeh Nyeh my crappy little car is ahead of your fancy one!!! Everyone here is guilty given the day and mood. It's a very competitive place on a lot of stupid levels....I USUALLY can avoid such pettiness and d!ck swinging. But ever since I've had the Challenger (and it's a white with Blue strip IE so not too subtle) I'VE become the target. and yeah...the little guy wins because he doesn't care if his rusty beater gets scratched or totaled. You have to be the gentle giant by default, a veritable ambassador of good will. So far on my two commutes with the Zoomers it has been different. They HEAR the car...they know it makes those sounds for a reason and they HOPE it doesn't POUNCE while they are scuttling by and ruin their day! They KNOW they aren't getting away with anything. The Lion is sleeping...don't wake the lion...it will eat them! At least that's how it feels while I'm cruising with my arm resting on the window with bugs in my teeth.
Did I mention Zoomers ROCK??