Well, I finally got off the fence and dropped my car off at
Magnuson
on Monday to have their blower installed on my 2010 Challenger SRT8. I've been contemplating this for over a year now and can't wait to get the car back and feel the new power. I research all of my mods thoroughly before I make a move and the
Magnacharger
is the unit that fit the bill for me.
Here's what I wanted in a supercharger for my car:
1. Reliable power for both street and track action.
I race my cars and this one is also my daily driver so it needs to preform well in both areas. The HP and TQ gains are on par with all the other supercharger units available for our cars, and there are options to develop more power if you wish to go that route as well.
2. Proven parts and product development.
These guys spent a long time doing R&D and there's a reason so many companies use their stuff for factory and aftermarket packages. It doesn't hurt that the internal components in this unit are the same technology that GM uses in the 638hp Corvette ZR1 and the 550hp Cadillac CTS-V.
3. Customer support and company longevity/reputation.
Jerry Magnuson has over 30 years of experience supercharging motors, the company has been around since 1970, and theis R&D team has more than 60 years of combined experience. The company reps have really stepped up to the plate and have proven themselves to have solid customer support to back up their products. It's really important to a customer spending thousands on their car that the relationship with the company goes beyond the initial transaction and I like what I've seen from them.
4. Good looks.
Everyone wants to be able to pop the hood at a car show and be proud of their investment, and the Magnacharger certainly gives you something to be proud of. It looks great in both the polished version for some bling, or the black for a more menacing look. The design is well executed and looks like it could be a factory installed unit.
5. EMISSIONS LEGAL.
I can't tell you how big this is to me. To my knowledge, this is the ONLY company that has stepped up to the plate and has been CARB certified and is 50 state legal. This is huge for us guys that live in sunny California. I have had other units on my other cars and luckily I didn't keep them long enough to ever have to get them smogged, but I plan on keeping this Challenger for a long time and I want more power to play with. Another thing worth considering is the fact that in CA, if a cop really wants to give you a hard time they can write you a ticket for any performance modification on your car that you don't have a CARB sticker for. It's can be a rare occurrence, but it does happen. My cousin got a ticket for his K&N CAI on his Magnum R/T because he didn't have the CARB sticker for it and it was a big pain for him to get straightened out.
All of these requirements added up to one unit for me and it's the
Magnacharger
. I'll let you guys know how things go and how the car performs after I get it back. My plan is to try and take it to Willow Springs with the
Hotchkis
guys in early March and see what the combo of the
Magnacharger
and the
Hotchkis TVS
can do on the track.
Here's a couple of pics from when I dropped it off.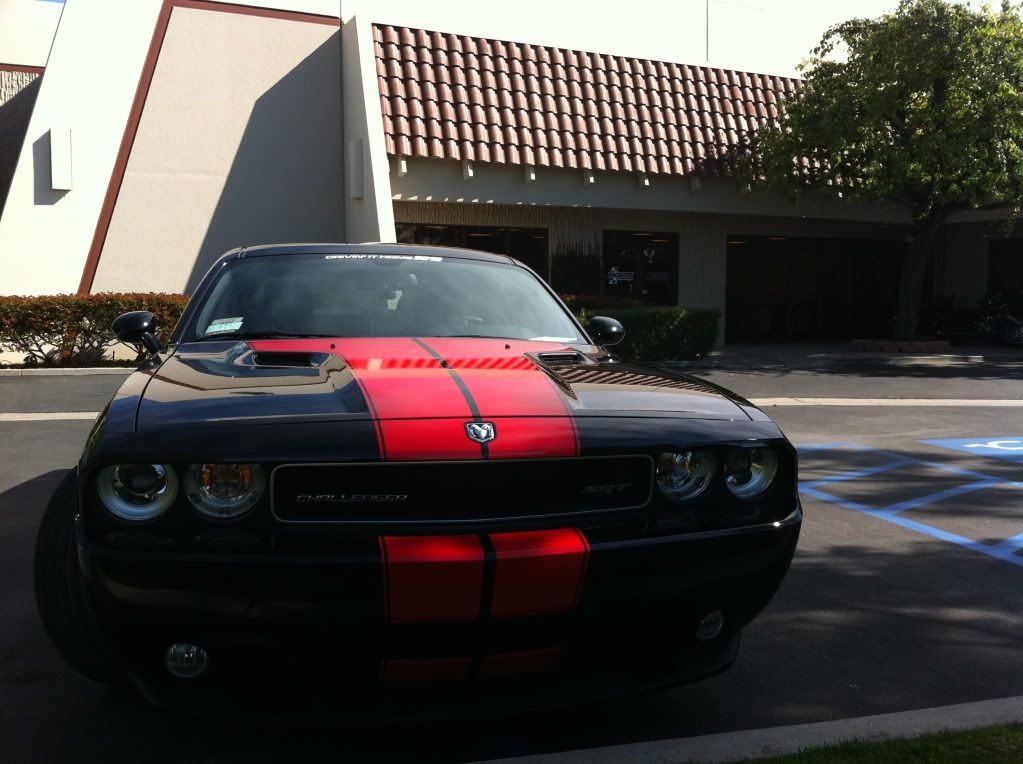 ________
Live Sex