Discussion Starter
•
#1
•
2017 Challenger GT here. The manual doesn't specify where the OBD port it is and instead gives a warning to not be connecting anything unauthorized to it. In any event, can someone tell me where it is located?
I was considering buying a new fangled dash cam that draws power from the OBD port and allows the camera to stay on in parking mode until it detects a 5% drop in battery, but now I'm thinking it's a bad idea. I don't want a dead battery nor a car computer that ends up going haywire.
Anyone use anything in this port regularly? Any issues of battery drainage or other adverse effects? Thanks.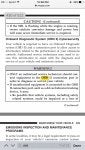 Sent from my iPhone using Tapatalk