Yeah, I'm a bit early, but I like to come prepared.
Here is the route I'll be taking to BG. If I remember correctly, Daddy Kool (Colin) is in Kingston, so we'll likely share the road for a good part of the trip.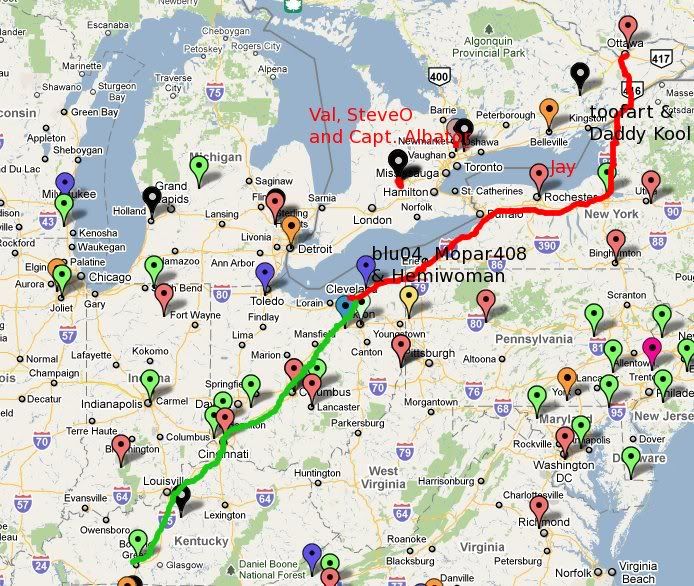 I think a decent plan (for us, anyway) is to do the trip in 2 legs. Along the way, we could meet up with the GTA crew (SteveO, Val and Capt Albator) and Jay and all stop for rest somewhere in northern Ohio near Cleveland/Akron. For the GTA folks that would clear about 4 1/2 hours of driving, leaving about 8 hours the next day.
From Ohio, we could trek down with Mopar408, Hemiwoman and blu04srt4, picking up lakersfan along the way.
Tentative schedule (subject to change)

Thursday April 28
- 7:00am toofart leaves Ottawa
- 8:00 meet up with Daddy Kool
- 2:00pm meet up in Buffalo with GTA crew (where?)
- 5:00pm arrive at Hampton Inn, checking, drink one beer (ok, maybe two)

Friday April 29
- 8:59 GTA crew pulls into Hampton Inn
- 9:00am depart Hampton Inn area with GTA crew in tow

- 9:45 Meet with Hemiwoman/Ohio crew
I71, I76, RT 224W
- 12:45? Stop and meet with lakersfan at Jeffersonville rest area which is actually about 35-40 minutes south of Columbus
- arrive at BG approx 6:00pm ?