I've been driving with this larger and thicker rotor conversion (both front and rear) for 2 weeks now and it's awesome. No more shaking or fading, my R/T now feels controllable when slowing down from ALL speeds. Best part is, this is an easy conversion that doesn't require disconecting your brake lines or removing any major components. Here are the details.
Front rotor conversion adapts 14.2" SRT Challenger rotors to stock R/T caliper, using Serious Metals kit, cost: $299
Brake Conversion - seriousmf.com
Rear rotor conversion adapts 13.7" Dodge Police R/T Charger rear rotors to stock Challenger R/T caliper, using (2) Dodge OEM part #5175065AB, total cost: $165
MoparOnlineParts.com
Now, all that's left to purchase are rotors and pads. Obviously, there are MANY options depending on your budget and needs. Personally, I went with Power Slot cryo treated slotted front rotors / Power Slot regular slotted rear rotors and Wagner Thermo Quiet Semi Metallic (not ceramic) pads. Below are a parts list for an example Rotor/Pad combo needed for this conversion (not what I actually used, just a reference).
Depending on the rotors and pads, this conversion can be done for under $1K total and can easily be installed by the average Joe. You will wind up with much larger (1/2" front, 1.1" rear) diameter rotors and more importantly, much thicker rotors. The end result is an affordable big brake conversion for our R/T Challengers that will now slow you down and shouldn't warp!
Top is new Dodge rear caliper bracket for allowing larger rear rotor.
New rear rotor on right is 1.1" larger diameter!
And thicker too!
New larger rear installed.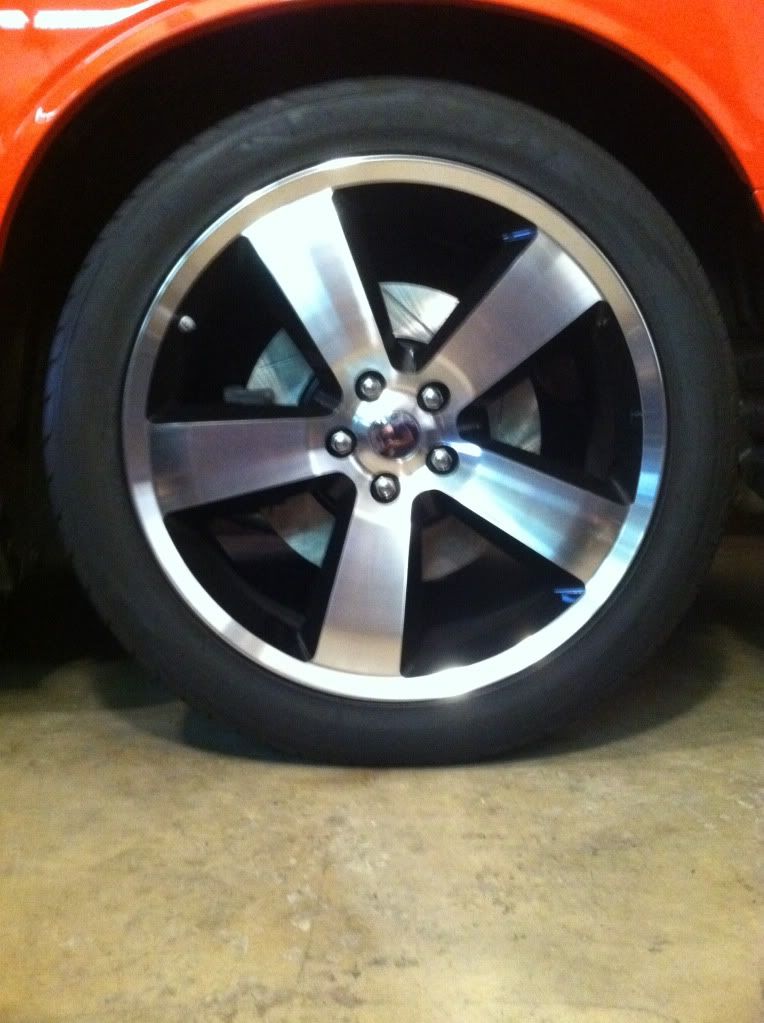 Looks great, stops better!
Qty Price
Total
Title:
DODGE CHARGER 2007 Rear Brake Rotors - Slotted
Sku:
PS.63065
Desc:
Premium Series Rotors - Slotted Only
$
242.46
(pair)
$
242.46
Title:
DODGE CHALLENGER 2009 Front Brake Rotors - Slotted
Sku:
PS.63063
Desc:
Premium Series Rotors - Slotted Only
$
298.41
(pair)
$
298.41
Title:
CHEVROLET CORVETTE 2006 Front Brake Pads - Posi Quiet Extended Wear
Sku:
106.07310
Desc:
Semi-Metallic Extended Wear & Scorched
$
54.00
(axle set)
$
54.00
Title:
DODGE CHARGER 2007 Rear Brake Pads - Posi Quiet Extended Wear
Sku:
106.10570
Desc:
Semi-Metallic Extended Wear & Scorched
$
42.60
(axle set)
$
42.60
Enter Coupon Code
* All orders over $100 qualify for FREE SHIPPING via UPS Ground within the 48 States only
SHIPPING METHODS
Select Country:
United States of America
Enter your ship-to ZIP Code:
Select Shipping Option:
$0.00 - Ground $0.00 - Will Call (La Habra, Ca)
Subtotal:
$637.47
Total:
$637.47