Discussion Starter
•
#1
•
I bought a 68020439AB Mirror and a 82211649 Cable. I added an RER radio a while ago with the Mic kit, I have been wanting to add the Mirror for a while. The time is now.
I saw the wiring diagram for the 82211649 harness and it shows a cable that runs from the RER to the Mirror plus a 7 pin plug marked "Vehicle Bus 7 Pin" coming off the plug at the Mirror end. See Pic.
Has anyone installed one of these and could tell me if the "Vehicle Bus Cable 7 Pin" is up in the headliner.
Thanks,
Steve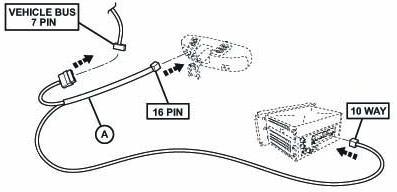 Please wait
Image not available