Track times - RT Predator vs. Stock Tunes
Here are the results of my comparison between the DS Predator 91 oct tune and a DS modified stock tune. My
car
is a 2009 RT with Corsa catbacks, DS Predator tune, catch can and CAI. Michelin Pilot 255/55/18s on rear, stock 18s on front. I am a beginner at this racing thing (obviously)
These time slips are from 15 April of this year at Firebird Raceway, Chandler, AZ. Elevation is 1243 ft above sea level. I ran 10 runs: 5 with a modified stock tune and 5 with the 91 oct CAI canned tune (9r28 crom). Modified stock tune had fans set for Jet 180 t-stat, firmer shifting, MDS off, throttle control set at "0". Engine temps prior to each run were approx 190-194 degrees, outdoor temp around 70-80 degrees. First run was at 6:11 pm, last at 9:52 pm. Car has never broken 100 mph with DS 91 oct tune.
Modified Stock:
91 oct CAI tune: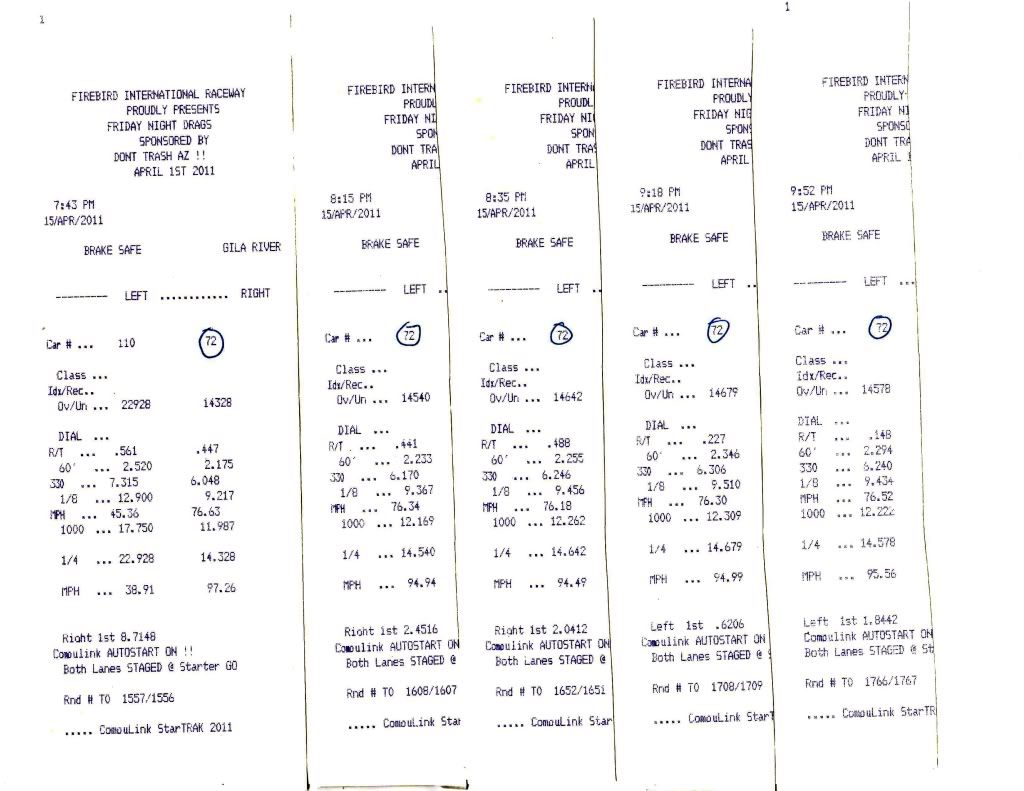 I've also attached a link to my times from a week previous, racing my wife in her 2010 GT. Wife drove a 2010 GT Premium with CAI (built in) and DS Predator. She's in car 270, I'm in 271. She's new at this too.
http://www.challengertalk.com/forums/f37/took-rt-track-1st-time-not-happy-55862/
All runs were with trac control OFF and I reduced the rear tire pressure to 28 psi. We only get 91 oct gas around here and I've been told octane booster isn't so great for your car, so I simply use the 91 tune/gas. I did find that the tires (street) hooked up better at 28 psi than the previous week at 36 psi.
Launching: I quit power braking and raising the rpm's. While this may work with slicks or drag radials, it does not with street tires. Instead, I simply went straight from the brake to the accelerator and tried not to floor it so quickly. I "rapidly" eased into it so to speak. I drove around the water and not through it (quit doing the burnouts).
I also learned (for me) to stage (stop) right when the 2nd staging light came on. When the countdown began, I would release the brake and begin accelerating when the 2nd yellow came on (I figured that out on my last two runs - see the R/T times drop).
In all honesty, I believe that by applying what I've learned to driving the GT, the GT will be the consistently faster car.