Well I wanted to see what the SRT would Dyno at Saturday. I attended the C.O.M.A (Centeral Oklahoma Mopar Association) 1st Annual Dyno Shootout and Car Show at PSE Super Chargers in Edmond Oklahoma. Great people and a great show,with food and drinks to Boot.There were some Sweet Cars there..and I wanted everyone of them..LOL
So my time finally came up to Dyno..there was a wide variety of Cars pulling and I was able to witness many..a Shelby GT500 did 477Rwhp and there were Cars in all ranges..some above 700 and were impressive!!
After my Car was on the Rack..I commented "I hope I am not embarrased..this wont look good if I cant get respectable power from a SRT..and if I dont get above 390..I am selling it" Everyone said.."you will do OK"
Well Green light..and Car startedup..I was at the Big Screen where all get to see what your car does..and I stepped back and avoided watching..then I hear her Roar...and rpm drops and I see the people watching the screen all say wow.. did the 2nd pull with same results..I was Very Happy..I have MANY witness and pics of the screen and a printout with A/F for each pull..
I am attaching pics I got and they are hard to see..till I figure out how to make them bigger and Clearer for Forum Posting..but the number were:
Sort of fuzzy..I see..OK here are the Numbers...
Max Engine 461.4 HP
Max Engine Torque 465.6 Ft lbs
Max Power (RwHP) 421.5 HP
Max Torque 423.3 Ft Lbs
Pretty Good..this is the corrected Numbers as well!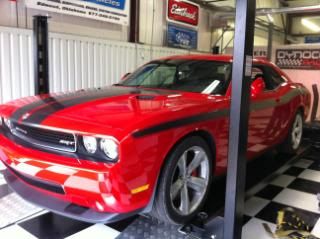 BIG Thanks to Ed Martinez at PSE and the C.O.M.A Club..
Dammit..I can get it bigger and clear on computer..Maybe I can take a pic of the Printout....
Now I am getting ready to look like THIS!! SOON!!!!!