Discussion Starter
·
#1
·
I've been asked quite a few questions, I'll answer them to the best of my ability.
The cold air intake debate, oil type, fuel injection vs. carburation, tire compounds and similar automotive debates date back years and years and will never be solved on a public forum.

We pride ourselves in high quality designs, proper R&D and street/dyno testing. We produce and manufacture parts and upgrades for these cars in which we run and have run on all of our personal cars. We drive these cars every day. If we don't see real value, we do not move forward with the release a product.

The proof is in the pudding. We've done the dyno testing. There is an increase indeed. This intake system was not designed to make huge numbers on a dyno. This intake system was designed to make driving your vehicle more fun and to add power while actually driving. Many believe in dyno numbers only. With certain modifications, I see this fit.
Every dyno is different, every car is different. With this style of intake system, you will not see results on a dyno like you would with an open element with your hood open. This is not an excuse, this is a fact. It is also a fact that nobody drives around with their hood up. We've run our personal cars upwards of 150 times, performing tests, tuning and functionality. (Every single) run is different. Very rarely will any given car run the same hp/tq back to back. It does happen on occasion, but it's very rare. Every tune, every tank of gas, every degree hotter or colder, humidity, elevation, engine/oil/coolant temps, these are all factors that will change, many times in between dyno runs.

Our intake system is based on 4 design aspects. Appearance, fitment, functionality and proper filtration. After quite a few months, we are pleased with all 4 aspects of our design. Thus, we have decided to release this for consumers.
Factory cars are not built to a blueprint/racecar specs. From irregular and inconsistent injectors, tolerances, differentials, and many other parts of these vehicles. It's a common fact, every car that leaves the factory and or car lot is different. Some range from 15-20 rwhp different (bone stock), some mounting points under the hood and even in the car have been off by more than an 1/8". We've seen it over and over again and we cannot control these variables/tolerances. We do our very best to maintain this information and design around these issues to allow proper fitment, performance and drive-ability for each and every car, but we cannot control every aspect.
In my opinion, you can liken this to the toilette paper debate. Over or under? Sometimes it just boils down to a personal preference.
Attached are a few pics. The bullet test and the stock intake test were both acquired while the vehicle maintained a coolant temp of 179-182. Both were driven the same 5 mile loop in normal driving conditions.
STOCK IAT SENSOR IN STOCK LOCATION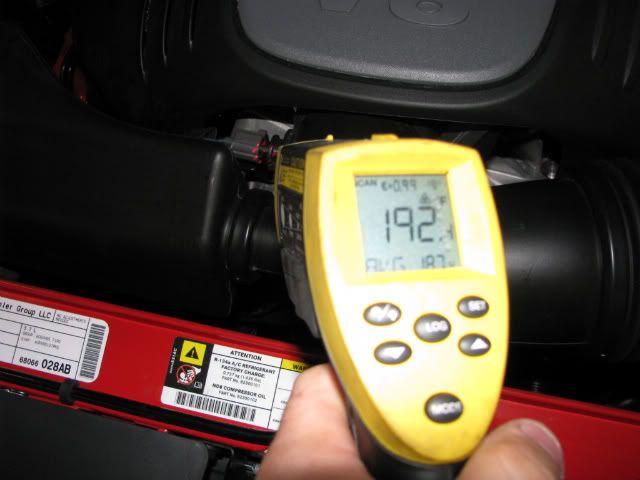 STOCK IAT SENSOR RELOCATED WITH BULLET
This alone made an obvious decrease in temperature.