Discussion Starter
·
#1
·
Hey everybody!!!!
We have received confirmation that the entire
SRT High Performance Tour 2011
will be joining us rain or shine September 10th, 2011 from 9am till 4pm at our
Third Annual "Back To School" Meet and Greet!!!
We are absolutely pumped!!! They will join the festivities for the day with all the new SRT Vehicles and more and then join us for a Road Rally and a test drive session set up at a huge private parking lot we have obtained so you guys can check out the new SRTs. Look at their site here:
SRT HIGH PERFORMANCE TOUR

Mark your calendars now for the 3nd Annual "Back to School" Meet and Greet with the
SRT High Performance
Tour September 10th, 2011!!
Our Third annual event will be held at
PARK DODGE
in Lexington Park, MD, here is the address:
PARK DODGE CHRYSLER JEEP
22231 Three Notch Rd
Lexington Park, MD 20653-2006
We are extremely excited that Park Dodge is hosting our event and so are they!!!
Here is a MAP to Park Dodge:
PARK DODGE MAP
The EVENT will take place from
9:00am to 4:00pm
We would like to repeat our performance from last year with supplying the local school district with LOTS of SCHOOL SUPPLIES all over again!!!! Since this is the "BACK TO SCHOOL" event we are going to ask everyone who participates in the Meet and Greet to please bring a NEW back to school item. Items will include paper, pencils, notebooks, back packs and all the other school items children in need use for school. When you arrive please bring your new school item to the BACK TO SCHOOL Registration MINI VAN area and we'll load it up!! All these BACK TO SCHOOL ITEMS will benefit the ST. MARY COUNTY SCHOOL DISTRICT!!!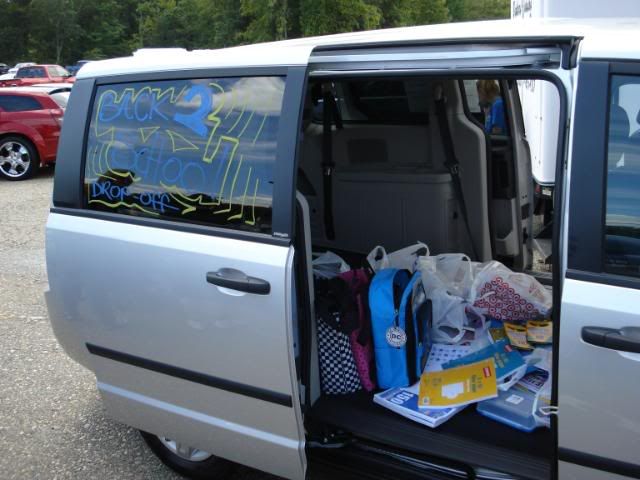 OK, here are the details for the event:
1)
EVENT TIME
will be from 9:00am to 4:00pm. We will leave at 3:00pm for a Road Rally with the SRT High Performance Crew, do a test drive session at a private parking lot then hit an waterside restaurant for dinner!!!
2)
EVENT REGISTRATION
. When you arrive we will park you (Look for the guys with the YELLOW VESTS) then proceed to the registration tent. It is there we will ask you to register (FREE, but you have to have SCHOOL SUPPLIES!!)) and then show you to the Mini Van that holds the school supplies. We hope to fill it up!! Once you are finished we will provide you with a dash NUMBER and voting tickets for the
PEOPLE'S CHOICE BEST IN SHOW
contest!!
3)
BEST IN SHOW
We will have three classes:
SRT8
HEMI
DODGE/CHRYSLER/MOPAR OTHER
Trophies will be rewarded in all 3 classes. We have huge trophies this time around too that are just like the ones we had at Toys for Tots 2010:
4)
50/50 Raffle!!!
Winner splits the pot!!! Tickets are 1 for $1, 6 for $5 and 13 for $10. Proceeds go the the THE NATIONAL AUTISM SOCIETY.
5)
FOOD FOR LOCAL FOOD BANKS
We are asking all participants to please bring some canned goods (If you can!) for the local food banks. As you know times have been tuff and more and more folks are hitting up the local food banks so lets lend a hand and help out!!!
6) The Dealership will be setting up an
OUTDOOR MOPAR HATS/SHIRTS/GADGETS
table!! They also will have some MOPAR MOD parts too...be sure to stop by the table and check it out!!!!
7)
DOOR PRIZES!!!!
We will have some really cool ones! Gift certificates, free passes....the list goes on. Keep checking back as we will publish the final list once all prizes are in....we have 4 $100 gift cert. from Modern Muscle, 7 Gift Cert. from Billet Technology, a case of 0W40 from Royal Purple, 4 pairs of free passes to MIR, a cold air intake from Arrington and more!!!!!
8)
FOOD
, yes FOOD!!! Park Dodge will be providing FREE food for everyone, Hot Dogs, Burgers and drinks. So bring an appetite!!
9)
DUNK TANK!!!!!!!!!!
YUPP!!! We will have a dunk tank on site full of clean cool water!! We will have teachers, car club presidents, car club members and other select folks ready for some DUNK TANK ACTION!!!!! Here is a PIC:
We will be collecting donations for folks to GET DUNKIN that will benefit the NATIONAL AUTISM SOCIETY
10) At 3:00pm we will assemble and head out for a well planned RALLY/CRUISE test drive with the SRT High Performance 2011 Tour.!!!!! We will be posting final information on that very soon.
11) This event is rain or shine!!!!!!!!!
We're pumped!! Can't wait to see each and everyone of you!!!! We will be posting a Flyer later today.