A few months ago I became the happy owner of 392IE #119. I waited to post my impressions until I had a few miles under it's tires. Now...here is the whole sordid tale...well, not that sordid...not YET!!
In 2009 our family car was a diesel Ford Excursion with a few hundred thousand miles on it. An awesome vehicle on every level, but its size had begun to wear on my wife. So my wife and I stopped by a local Jeep/Chrysler dealer near Azusa CA to check out a Wrangler Unlimited since she had always wanted a Wrangler, but NEVER EVER had driven one. It was Saturday, no money for the movies so we chose some cheap entertainment and took a test drive. We were impressed. With 3 kids the four door was a must too. We were just window shopping due to finances at the time, but that was the moment that added the car firmly to our list. That and ice cream made for a fun Saturday.
While on the lot I saw something out of the corner of my eye...it was Orange with black stripes...I didn't know what it was, but I knew it was the coolest new car I'd seen in the last 20 years maybe. It was almost exactly like my favorite AFX car from my electric set I had as a kid. Orange and black! Like a toy come to life! They also had a White one with a flat black shaker hood...ulp. I had no childhood reference for that one...no shield of nostalgia to protect me from it's unbridled cool factor and general "badass"ness.
After my first car being a Checker Marathon (another great car that out lasted my teenage finances after 3 years) several used budget imports over the years, and finally following a '63 Oldsmobile Super 88 over the money cliff of restoration and maintenance only to have the engine actually explode one day....I had sworn off all cars and settled for just driving my Harley everyday of the last 7 years. I had heard nothing about the "new" Challengers until I laid my unsuspecting eyes on them.
Lust made me ask stupid questions like..."how much is it?"
If the $28,000 Jeep was not in our range at the moment...these $70,000 beauties (what the dealer was asking at the time) were strictly in the fantasy catagory. Not surprised in the least that something so damn "right" and "perfect" and "cool" was well beyond my means, I withdrew to the shadows of my soul to weep.
Part of me was secretly relieved that it WAS so beyond me to afford so I wasn't even tempted to try and go to unreasonable lengths to buy it.
Fast forward (mercifully) to this February. We sold the Excursion and my wife finally got her Jeep back in November. Rains had been bad this year and I usually just tough it out on the bike, but my wife had burned out worrying and asked me to consider getting a car for bad weather at least. I had forgotten (or rather pushed from my mind) the Challenger until I saw a black SE near work one day....oh yeah....I mentioned to my wife that it was really the only car that grabbed me. She suggested I check them out.
I found a local dealer with plenty of 2010 SRTs on the lot. We headed out for a test drive. It was silver, it was an auto, it was nice. The 392s were locked up until the following weekend...so we came back on a rainy sunday to try those too. No one was there due to the rain so I got to drive a Billet 392 and a 2010 FF 6.1 back to back a few times. I liked both, the price and color of the FF was great ($38K), but I preferred the feel of the 392. The other problem was both were autos. They only had one manual on the lot...a 392 white IE, but they weren't allowing test drives on those. The more I looked, the more I liked the IE...The dealer was great, but they were asking $50K for the car. I finally got them down to MSRP, but the problem was the interest rate was crazy high. I was approved, but I didn't want a bad rate (or payment). They knew where I wanted to be and I'd given them a lot of chances to to get there. It had turned into a waiting game stalemate. My credit union could have worked with me but they are SLOW...like a month to approve.
While doing research on the forums I'd met Lee Brown at Baxter dodge in Nebraska. He'd helped people with info on the forums without being a salesman, just a great guy and fellow enthusiast. He knew I was looking and asked me how it was going. I told him where I was at with my deal and where it had gotten stuck. He thought he could do better and asked if I'd let him try. I said yes and he came back with a better price on the same car (46.8K) and lower interest financing from the SAME financial group. He offered to fly me out or ship the car basically for free ($200 in the end) too.
My local dealer asked if I'd still buy from him IF he could match. I told him I'd rather stick with Lee at this point since he'd done the leg work even though it meant going through the shipping process and waiting for the car. My local dealer was being competitive in this market and they DID sell their car the following week for their price so I think it worked out well for all involved. No hard feelings.
Now began the WAITING!!
Lee sent me a couple of pics along the way...
Here's the garage where my car was hanging with it's brothers and sisters in Nebraska...they get weather there so Baxter doesn't mess around. They keep their inventory in safe, comfy conditions.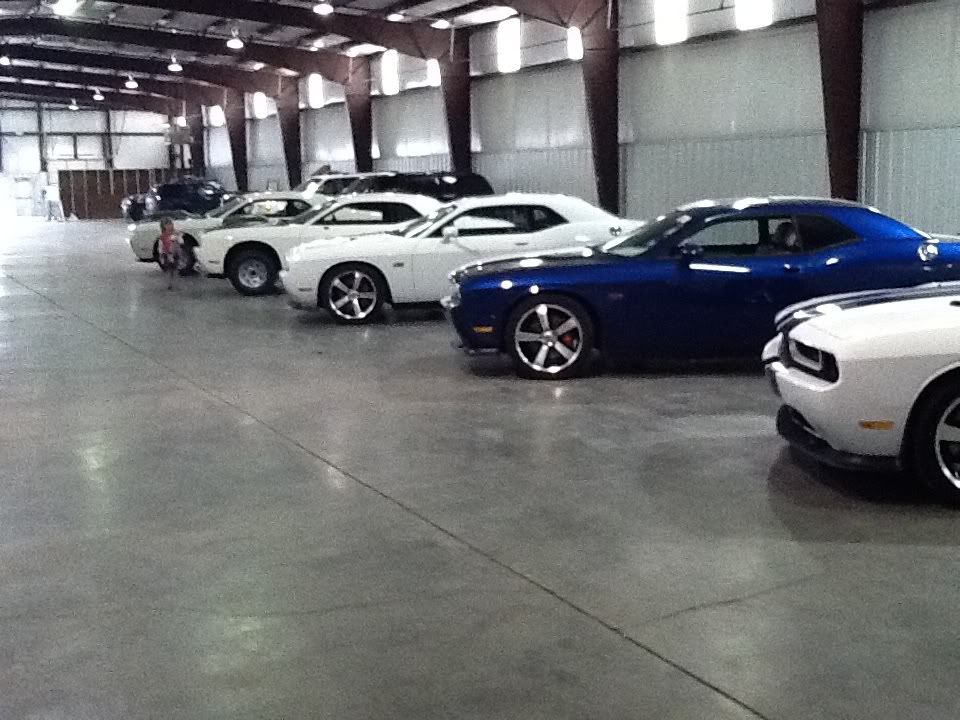 And here it is getting loaded on the transport...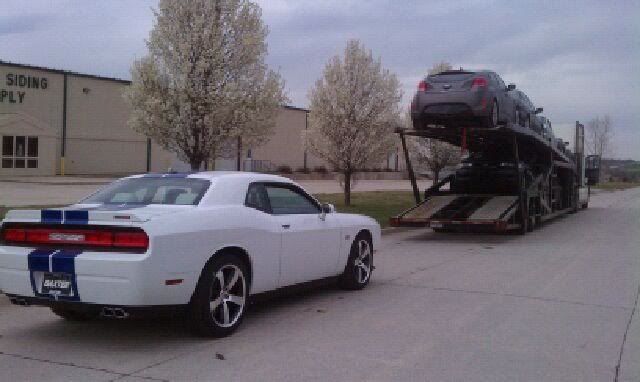 A few days later...IT ARRIVED!!!
My wife drove me to pick it up and took a few pics!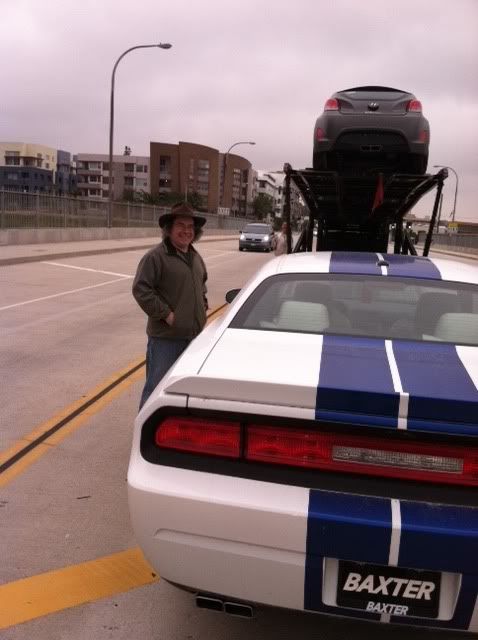 It was perfect off the truck! I was nervous as hell buying from out of state, but it all went perfectly smooth. Lee was a great guy and helped throughout the whole process. In fact he stays in touch regularly and has proven to be more than just a salesman on several occasions. I've steered a few people his way and they have all had the same awesome experience. I'd highly recommend him.
First business was filling the tank!! I had to start it up and drive it a whopping block and a half to the gas station nearby for it's 91. Pushed the button and vroom....Starting my new car for the first time was pretty exciting. Nice feel, nice sound. The clutch felt good as I put it into FIRST gear (literally) and eased out onto the street. I'm glad it was a short first drive cause I was a little dizzy with excitement.
FIRST FILL UP....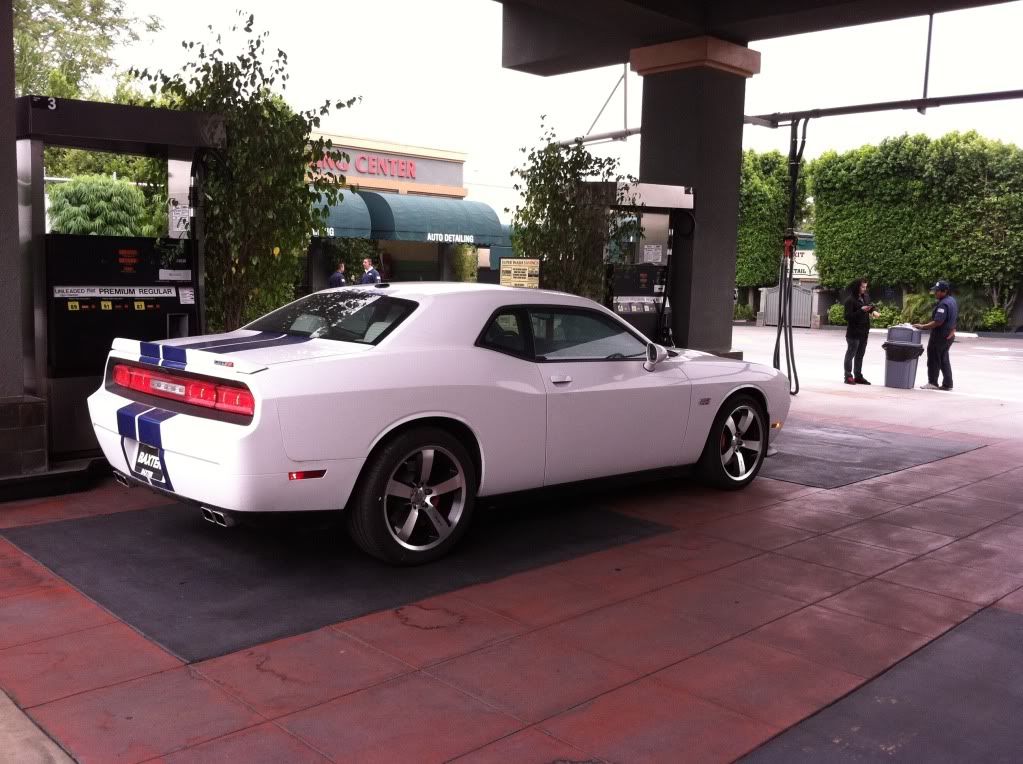 Then it was time to head to work and let it sit for 10 hours while I waited to drive it home. Those first 20 miles where fun and terrifying. I'd never owned such an expensive car and I had to get used to it's size and blind spots. Finding a "safe" parking spot was new too. No door dings for this beauty please!!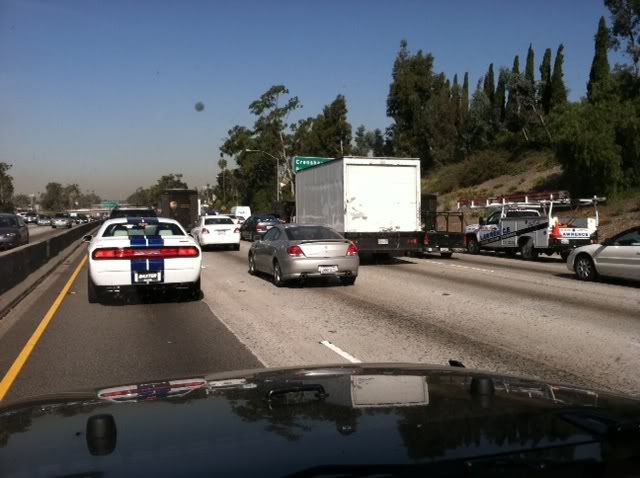 That night all 5 of us piled into the car and took a family drive. the kids where thrilled and it made some nice sounds on the freeway, even under break in driving conditions...
It's now been about 2 months and my joy has only increased. It has since been my daily driver. whether taking my youngest to school...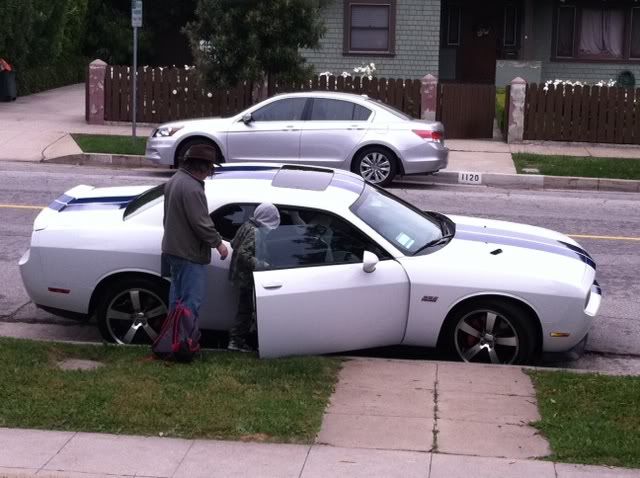 or the whole family to mothers day brunch...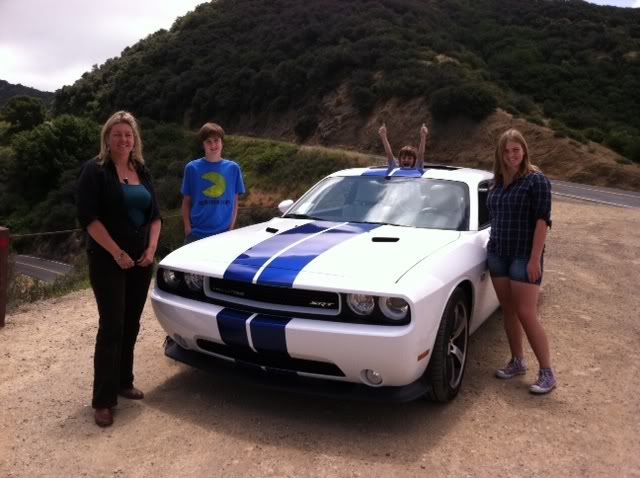 ...it has become like a member of the family.
Here it is resting at home in it's bed...I mean driveway...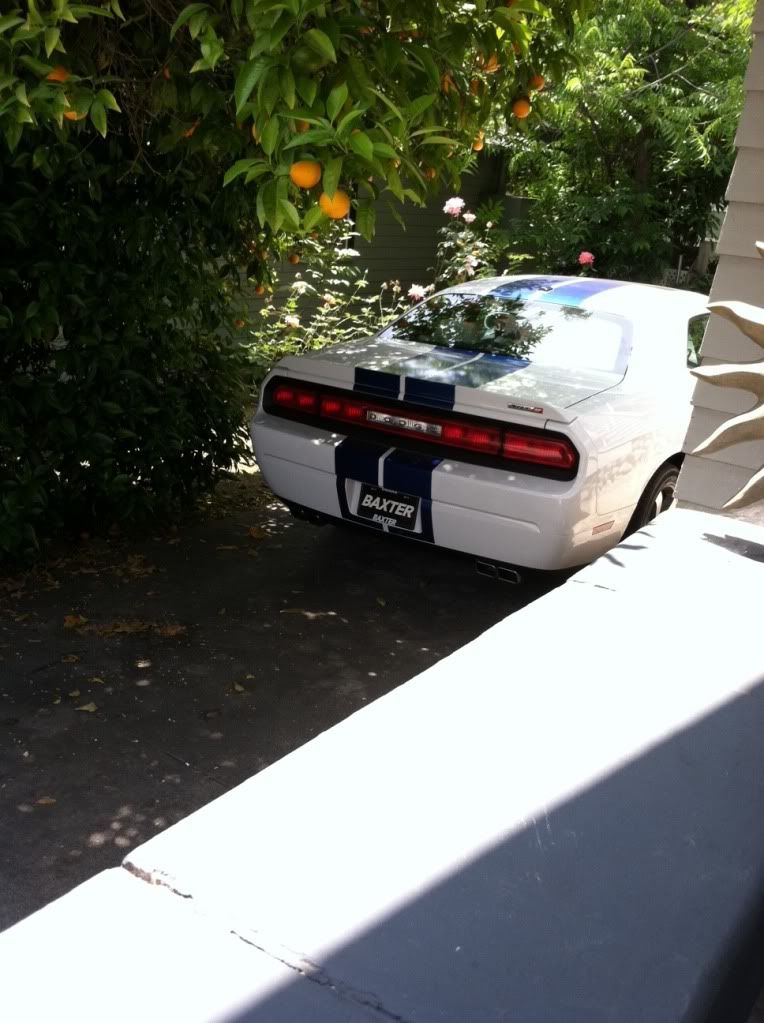 Here it is patiently waiting in the rain while I get it registered at the infernal DMV...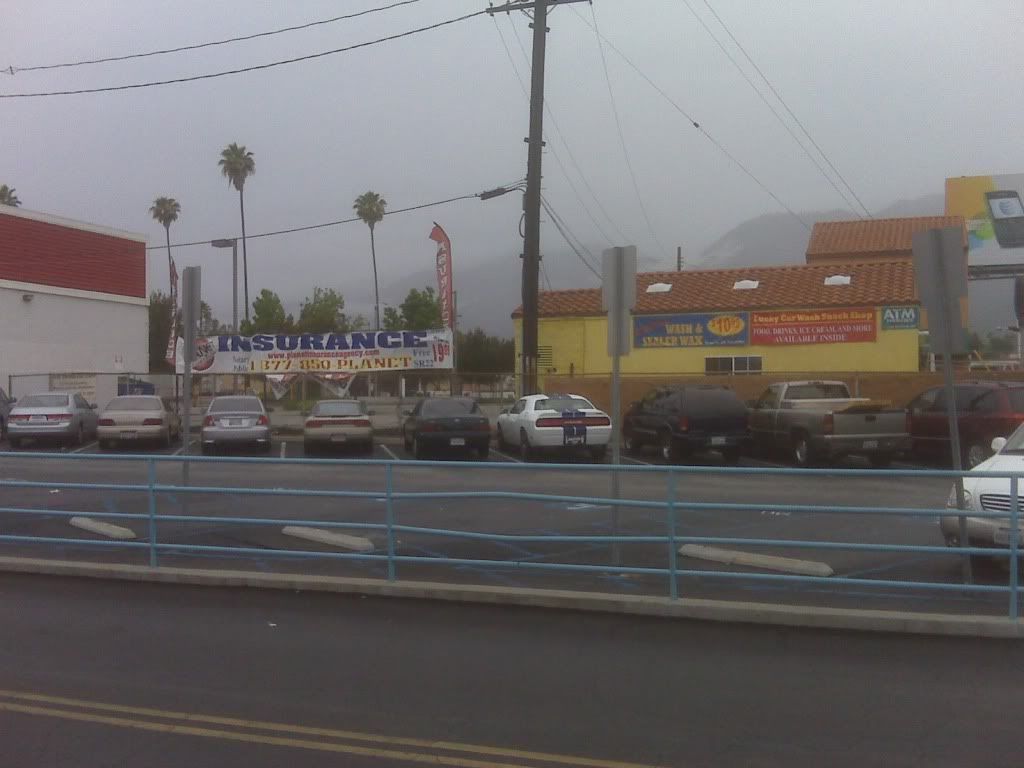 I even eventually found the original Black SE that inspired me to buy my own...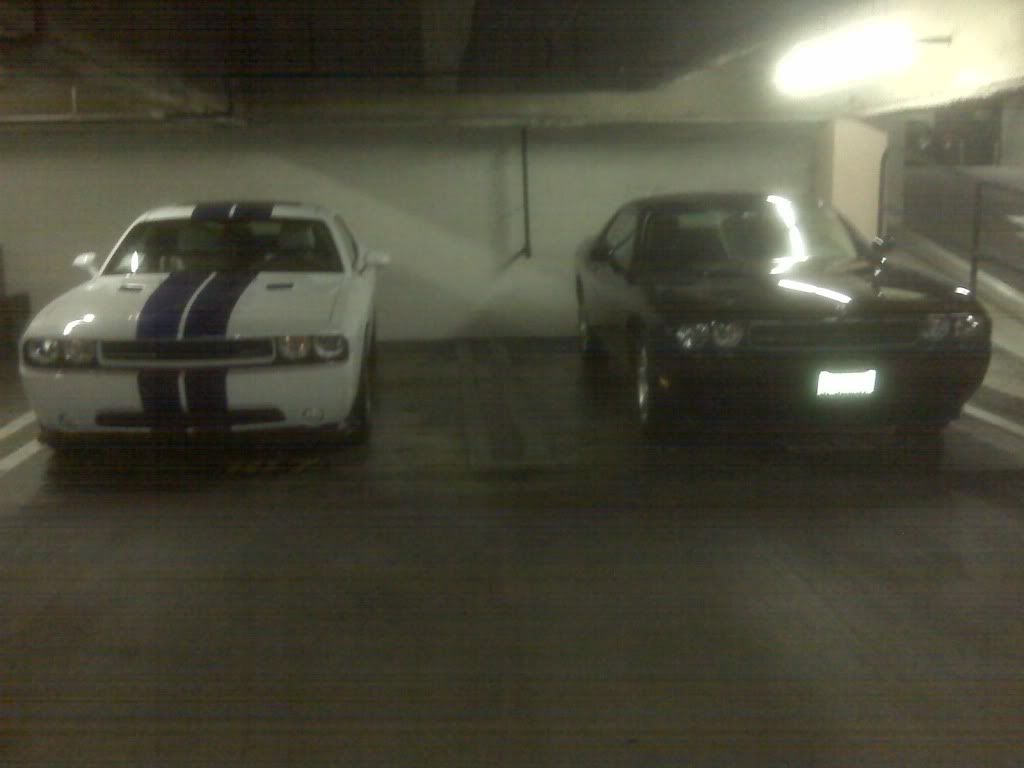 The only mods I've done are the Mopar bucks Front Strut Tower Brace and Speedlogix Skip Shift Eliminator...oh yeah...and one more thing...
Zoomers exhaust! Easily the best thing I could have done to this car! I have a lengthy thread on them here...
http://www.challengertalk.com/forums/f175/life-zoomers-58478/
In the end this has been an amazing car...here's a view of the goodness living in southern California...I like to think this car is as happy I bought it as I am that I own it!!! The break in complete I can safely say this car HAULS!!! We have a lot of fun on our drive to work each day (not that I see the ocean very often living in Pasadena...)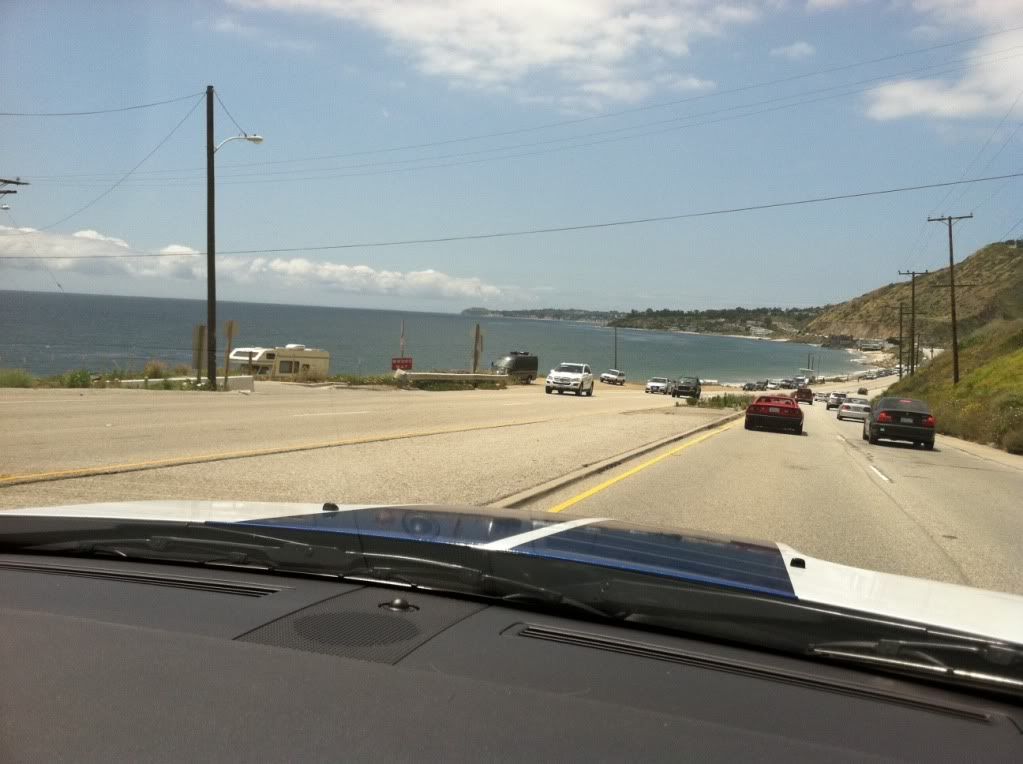 That's all for now. I gotta go drive!!!!